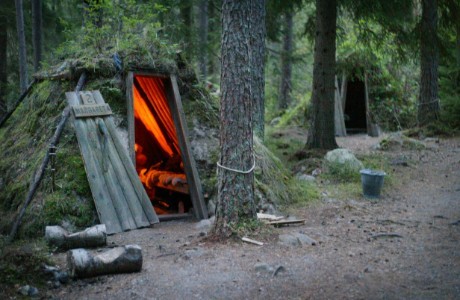 'Washing and cooking facilities are primitive'.
You would expect to see such a comment on a negative Tripadvisor review, but it might surprise you to find these words on promotional material written by the owners of a property. Yet this unorthodox approach is exactly how the Kolarbyn Eco-Lodge in Sweden is attempting to entice guests.
But then Kolarbyn, around 100 miles from Stockholm,  is no ordinary place to stay. A group of 12 wilderness huts in the forest, the accommodation would look very much at home in an ethnographic museum.  There is no electricity or running water, although guests are provided with a bucket with which to fetch their water from the nearby stream. There is a wood fire in each hut and you will be expected to chop your own wood during the day.
Fresh food is plentiful at Kolarbyn. Blueberries can be picked from the roof of the hut and mushrooms can be gathered from the surrounding (in season). Thankfully there is no requirement to hunt if you want meat for your barbecue, with a shop nearby and even cooked meals available on site. The owner of Korarbyn Andreas is on hand as the resident wilderness expert. He will take guests foraging and teach them woodland survival skills while sharing his knowledge of the history of this old mining district.
A lakeside 'floating' sauna is perfect for those wishing to relax during their woodland escape, while for the more active guests there are canoes and rowing boats available. Depending on the season guests can also enjoy horse riding and snow-shoe trekking in the quiet of the surrounding woodland.
The emphasis at Kolarbyn is very much on minimising the environmental impact of tourism while providing a positive benefit to the local community. The huts are built from natural, locally sourced materials, avoiding the use of toxins and chemicals. The area was once famous for its charcoal kilns that were used to extract iron ore and part of the proceeds from Kolarbyn goes to the restoration of charcoal kilns for use within the local area.
But for those interested in a visit to Kolarbyn there are probably two main questions that need answering. Firstly the toilets: there are dry composting toilets. While this might present a culture shock to some, they are kept clean and are very much part of the wilderness experience. And don't ask about mobile phone coverage; yes, you can get a signal but chatting on your phone might well be frowned upon during your get-away-from-it-all break.
Most guests stay at Kolarbyn for one or two nights and combine it with a stay in  more traditional  accommodation. Visit our Sweden pages for more information about Kolarbyn and other options.