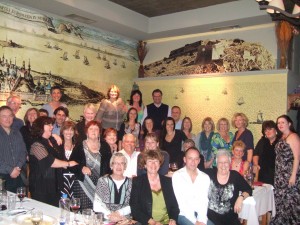 Our overseas representatives are the vital front-of-line, client-facing staff for Sunvil and its sister company GIC The Villa Collection.  Many have been with us for years.  Linda on Crete has worked in Chania for Sunvil for over 25 years – Monty Don was filmed doing her job with her commenting on how well or badly he was faring!
We have 30 overseas representatives in Greece and, without them, Sunvil and GIC The Villa Collection would lose much of their customer appeal.  They are there to help, to advise and to sort out those little problems which always occur during any holiday.  Time is precious when you are on holiday and it helps to have recommendations as to where to go and what to see so that you do not spend time researching on a hit-and-miss basis.  Sunvil and GIC reps are not there simply to sell as many excursions as possible – our clientele is very different from the mass-market norm.
Our representatives are encouraged to contribute to the local community and many of them are very active in supporting local animal charities and local arts and crafts.  This year several of them will be running in the Nemean Games 100m race or the alternative 7.5 km option, the Games being one of the highlights of this year's June calendar and a sister event to the original Olympian Games.  It's great fun and if you, the reader, are interested in taking part then do visit www.nemeangames.org and then ask us about the special trips we are offering for those wishing either to participate or to watch.  Apart from the experience of stepping back in time – the race is a replica of what would have happened in the stadium at Nemea over 2,000 years ago – there's a village feast for participants, and the opportunity to sample some of the best wines in Greece from local wineries.  The Nemean Games were a precursor to today's Olympic Games and the United Nations – they encouraged local tribes to compete on a friendly basis rather than warring with one another.  It's an aim that's as relevant today as it ever was.
Our representatives really come into their own when there is an emergency.  More often than not it is medical emergencies that they have to cope with and, over the years, many of our clients have had good cause to thank them.  Our reps do not interfere with your holiday, but they are there if and when you need help.  A good representative is an enormous asset to a tour operator and we are very aware that many of our clients return to the same resort year after year because they know that Jackie, or Wendy, or Peter, and so on, will be there.
Every few years we gather all our representatives together before the season starts and we spend the weekend updating them and listening to them, reminding each other that we are working together to create the perfect holiday and acknowledging the fact that they are a very important part of the Sunvil team.  This year we all gathered in Tolon on the Peloponnese, the first resort that Sunvil featured in its Greek programme in 1974, for a weekend of work, eating, drinking and gossiping, along with many of our local suppliers.
We all love Greece and we are all determined to help the country and our many friends there to survive and prosper, and to dispel the incorrect notion that the country is an unsafe place to visit or that somehow, this year, it should be given a miss.  There is great determination to prove the financial pundits and news reporters wrong.  Greece and its people have been through much worse and they know that it's through tourism that they will embark on the road to recovery – and we are here to help.  We hope that you will join us in Greece this year for the warmest of welcomes – and perhaps some fun and Games in Nemea, too!