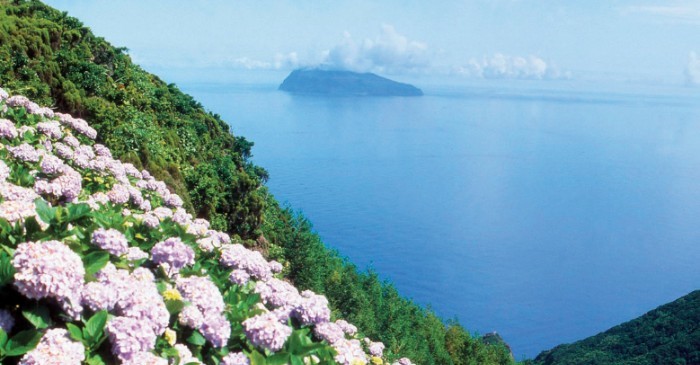 For six days in July (from the 3rd to the 8th) Hampton Court Palace will be ablaze with colour and will welcome thousands of visitors for the annual Royal Horticultural Society Flower Show. This year a dedicated section will feature 'World of Gardens' and within this area will be a garden showing off the typical flora of the Azores.
According to the Royal Horticultural Society website the Azorean garden "depicts the volcanic character and sub-tropical planting of the islands of the Azores. Inspiration has been taken from the geological features of the islands, and from their impressive botanical gardens."
Features include "an Azorean pool and waterfall, vines in black basalt planters reminiscent of Pico's UNESCO World Heritage vineyards, a steaming fumarole (a geological feature) and an underground oven where the traditional dish cozido is cooked. The surface of the garden is covered with scoria, a naturally-occurring volcanic gravel."
The flora has been carefully chosen to represent that of the Azores. It includes "zantedeschia, canna lillies and ferns, creating an informal hedge characteristic of the islands. The structural planting consists of tree ferns, palms and deciduous broadleaved trees underplanted by shrubs and grasses."
The Azorean garden has been designed by award winning garden designer Stephen Hall. He confesses to never actually having been to the Azores, and he got much of his information and inspiration from David Sayers, travel writer and author of the Bradt guidebook to the Azores. Sayers happens to be a botanical horticulturalist and was able to offer plenty of advice to Hall about the layout and composition of the garden.
It's easy to see why the Azores are a great subject for a garden designer to create a nationally themed garden. Known for their lush green slopes and wild flowers, the islands' mid-Atlantic location ensure a healthy mix of sun and moisture, providing the ideal environment for flora to flourish. In addition the Azores remain one of Europe's most unspoilt destinations, with very little development to threaten the clean air and fertile soil.
You'll need to head over to Hampton Court to see the finished results for yourself, but rest assured that the ferns and hydrangea for which the Azores are so well know are likely to be represented within the garden. A team from Sunvil will be at the show as well, and if a visit to the Azorean garden leaves you inspired to visit the islands they can help you plan your trip.