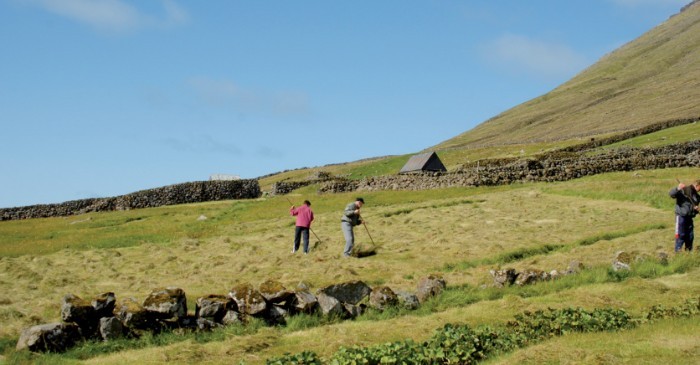 The Faroe Islands' association with sheep goes back a long way. In fact the name of the Faroe Islands apparently means 'sheep islands' and the woolly creatures have been on the island since they were introduced in the 9th century. Tuck in to a meal in a Faroese restaurant and you're likely to find lamb or mutton featuring prominently on the menu. This is hardly surprising as there are thought to be around 70,000 sheep on the islands, considerably more than there are human inhabitants.
But while sheep elsewhere tend to keep themselves to themselves and pass their time doing little eating grass and pondering life big questions, here in the Faroe Islands the local sheep have been making the news with not one but two recent starring TV roles.
In a very popular TV commercial for British optical chain Specsavers, sheep on the island of Saksun provided the supporting cast for the unfortunate sheepdog who became a victim of his owner's poor eyesight. See the video below – within the first 5 seconds the clip shows off the remarkable beauty of Saksun and the number of online queries around the location of the advert is evidence that many were charmed by even a brief clip of the Faroe Islands.
The sheep of the Faroes also featured in the recent hit TV detective series The Killing, shown on BBC4 in the UK. While the series was filmed in Denmark, one of the enduring memories of the programme is the symmetrically patterned fisherman's jumper always worn by the star of the show, Detective Sarah Lund (played by Sofie Gråbøl). These colourful jumpers, while instantly recognisable as a Scandinavian design, are very much a speciality of the Faroe Islands.
In fact, as a result of the TV series the designers of the detective's jumper Gudrun and Gudrun have seen a marked increase in foreign visitors to their showroom in Torshavn, while global interest in their unique designs has led them to shipping their products as far as Japan and the United States.
It's good to know that Faroese wool is spreading the message of the island far and wide and I think we can rest assured that despite the Specsavers advert, no dog hair will be found in a typical Faroe Islands jumper!