For the first month of the Sunvil Supper Club we've gone for a popular dish from Crete – baklava. Having made a sample batch (to make sure the recipe is just right, you understand) we can tell you with some confidence that it is really good and very exciting. This much loved treat is the perfect way to bring back those sun-drenched memories of holidays to the Greek Islands.
Dating back to Roman times the story of the humble baklava is long and esteemed. From its origins in Crete, from a dish called Gastrin, this sweet, spiced, nutty pastry dish spread across large parts of, what was once, the Ottoman Empire; from modern day Greece over to Turkey and the middle-east. It is made up of layers of filo pastry, interspersed with finely chopped nuts, spices and a sweet syrup, or honey. Often made for weddings, or other special occasions like Christmas and Easter, this rich, sweet treat is virtually irresistible.
If your mouth is watering and you are feeling inspired to try make the baklava for yourself all you need to do is follow these quick simple steps to download and print your recipe card:
– Click on the recipe card image below – this will take you to a new page with the recipe card on it.
– From here right click on your mouse and click the 'save as' button.
– Save the card wherever you choose and then open it up.
– Once you have opened your recipe card you print it using your chosen printer.
– All you have to do now is go shopping and get layering your pastry!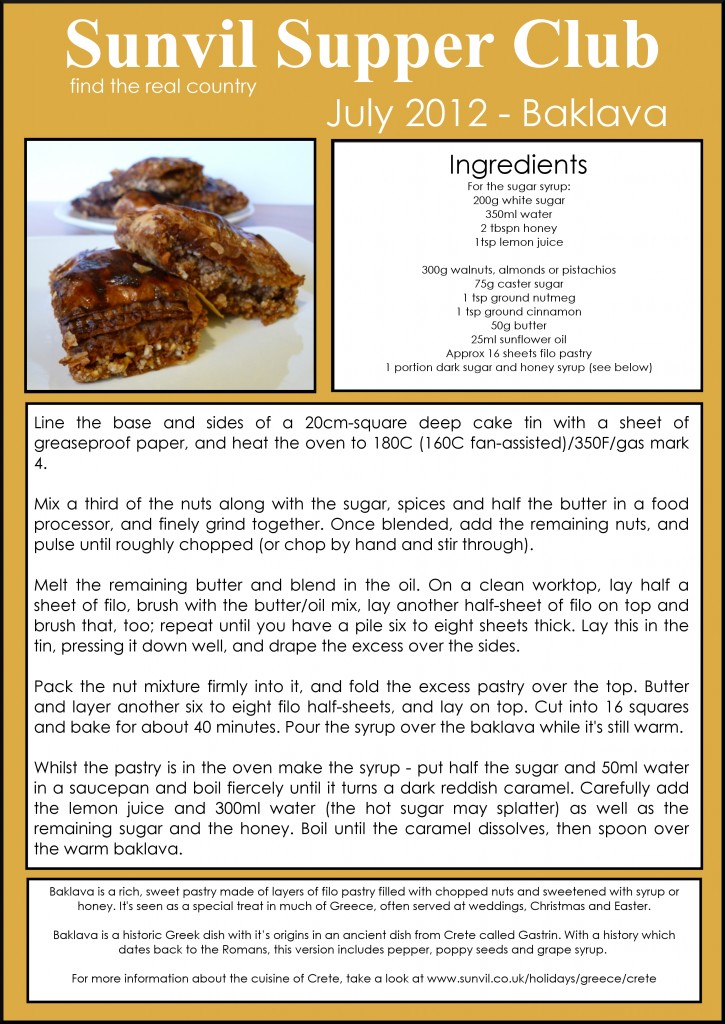 Alternatively, download the PDF version of July's Sunvil Supper Club recipe card by clicking here.