Luis is a Cork Oak farmer. He farms a total of 900 hectares near Grandola in the Alentejo, that's 2,223 acres or 3.47 square miles of cork trees.  He is the vice president of the Cork Growers Association of Portugal, an expert in his field and the fifth generation that has cared passionately for this vast tract of hilly terrain only a few miles from some of the fabulous Atlantic beaches of the south west coast of the country.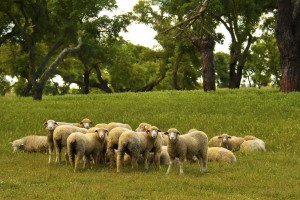 Cork is his main business, but he also has 600 Merino sheep that have been crossed with a French breed and 30 hectares of olive trees so he produces his own olive oil.  The estate has many oaks that are over 200 years old and one, huge, magnificent specimen has passed the three hundred year mark.
Looking after such a cork forest is a full time business.  The undergrowth has to be cleared, old wood removed and the young oaks nurtured so they can grow into strong adults.  Fire is his greatest enemy. Summer temperatures in the Alentejo can pass 40 degrees and in that heat he says the forest is as combustible as kerosene. Fire breaks have been created and an enormous artificial lake where helicopters can sweep down and fill their huge hanging buckets with water so that they can dowse the flames. To date he has not had to use this facility.  A fire here, and the forest would need a generation to regenerate. 
Self-guided walks have been created through this magical forest which, in the spring, is carpeted by flowers of every colour. Green markings point the way for an easy circular walk of 4 kilometres. If you want a really hilly itinerary with some spectacular views over this vast estate and beyond then try the red route which stretches for 14 kilometres.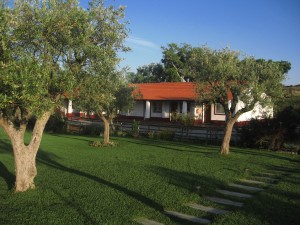 So why did a farmer turn to tourism?  Farm buildings cost a lot to maintain, Luis tells me, and diversifying into creating the Herdade das Barradas da Serra is the best way of reducing the maintenance cost and creating a business that can exist alongside Cork oak farming. Elsa his wife is heavily involved.  I have no doubt that the Herdade das Barradas will be one of our most popular rural tourism properties.  The standard of the 10 rooms is extremely high, the ambience wonderful, the pool inviting and the welcome warm. And if you fancy eating at one of the excellent restaurants that can be found in the vicinity of Grandola and are worried about having one drink too many, then, as part of the service, you can be taken and collected from the restaurant of your choice.