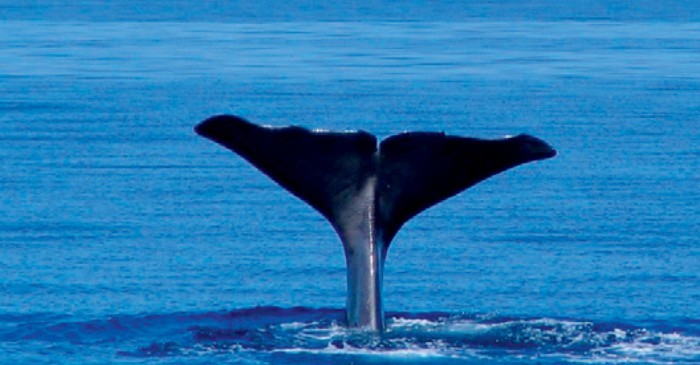 The relationship between the Azorean island of Pico and the sperm whales that pass through its cool waters goes back a long way. It was here in the 18th century that English and later American whaling ships would call during their missions to capture whales and harvest their vast amounts of oil. At that time whales provided much of the oil that was used for kerosene lamps and with the rapid development of Europe and North America the demand for oil was insatiable.
Whaling boats would visit Pico to pick up supplies, make repairs, recruit local boys and of course allow sailors to do the things that sailors liked to do in any port of call. Soon enough islanders began their own whaling operations which for a while brought prosperity to the island.
In the mid 19th century ground-based oil began to be drilled and whaling lost its commercial viability. Yet the oil from sperm whales continued to be used in automatic transmission fluid well into the 20th century. Portugal signed up to the Bern Convention on whaling in 1986, finally bringing to an end commercial whaling in the waters of the mid-Atlantic.
Visit Pico today and you're quite likely to take a boat trip out into the Atlantic to try and get a sighting of these graceful giants. Boats leave from Lajes do Pico and take guests on a 3 hour search for some of the 24 species of dolphin and whale that have been spotted off the coast of the Azores. April to September offer the best chances to spot whales and while sightings can never be guaranteed, these water do offer some of the world's finest whale-watching opportunities.
Near the departure point of the whale-watching boats is the Museum of Whalemen. This has been established in old storage huts that were once used by the whalers, and you can see the tools and equipment once used by local men in this bloody pursuit, such as canoes and harpoons. You can also learn about the dangerous voyages of the whalemen and watch a film on the history of whaling in the Azores.
And so the importance of whales for the people of Pico continues well into the 21st century, with many visitors reporting their encounters with these sea giants as one of the highlights of their Azorean adventure. It's surely good news all round, both for the islanders and especially for the whales on whose well-being many local folks continue to depend.