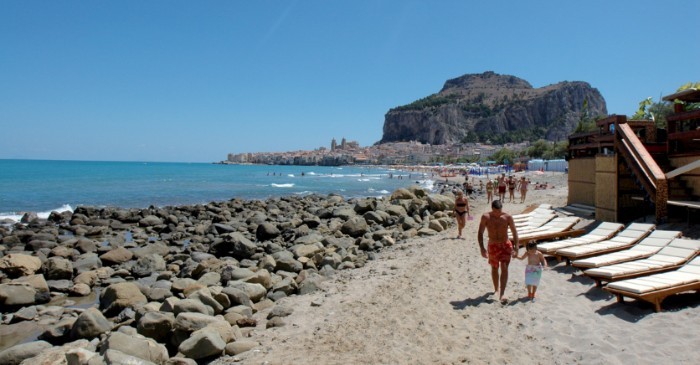 Cefalu on Sicily's north coast is a popular place to visit at any time of the year. A short drive from Palermo, it boasts fine golden beaches and a old town that dates back to the days of Norman conquest, over 900 years ago. The city is home to the finest cathedral in Sicily, built by command of King Roger II, ruler of the island in the 12th century. Its narrow lanes draw visitors from across the world to shop and enjoy the finest Mediterranean seafood in the many restaurants.
Sherberth Festival 2012
Yet for a few days in September there is another reason to come to Cefalu. Between the 6th and 9th of September the city hosts the 6th International Ice Cream Festival. Along the main street of Cefalu ice cream makers from around the world come to show off their skills in producing a bewildering selection of sherbeth (ice sorbet).
While the familiar fruity flavours of ice-cream sorbet will be present, visitors may be surprised at some of the more unorthodox varieties that have popped up in previous festivals. These include smoked fish, foie gras and vegetable flavours, along with  ice cream made using liquid nitrogen. Antonio Cappadonia, the Director of the Sherberth Festival, is well known for his artichoke flavoured creation. He was a member of the Academy of Italian Gelato, so we can only trust his judgement on this one!
Why Sicily and Ice Cream are a perfect blend
Ice cream in its earliest form (frozen ice mixed with fruit juice) has been around at least since Roman times and has been a feature of pretty much every culture that has developed the art of freezing. Apparently an excess of ice-cream was a frequent cause of Nero's indigestion troubles. So it's perhaps no surprise to find a celebration of one of the world's favourite foods here in Sicily, where so many cultures have collided and learned from one another.
But the Sherberth Festival in Cefalu is not just about ice cream and there is plenty here for anyone who doesn't like ice cream (is there any such person out there?) Along with a programme of tastings and ice-cream making displays there are jazz concerts and muscial performances, creating a party atmosphere for the four days of festivities.