Portugal may not be the most obvious European walking destination, yet a recently opened trail may be about to change that. Here's a short trailer that does a great job in showing just what you can experience on the Rota Vicentina in the coastal Alentejo region:
It should hardly come as a surprise that this remote south west corner of Europe is home to some of the finest long-distance walks. With fabulous coastlines, isolated traditional fishing villages and the Atlantic breeze taking the edge of the scorching summer heat, there is plenty to entice the serious or casual walkers to Portugal and the coastal trail.
The Rota Vicentina runs for a total of around 340 km and is composed of two distinct trails. The longest is the Historical Way, which covers 240 km and has a mix of coastal and inland sections. It offers an ever-changing landscape of Atlantic cliffs, cork tree fields, old rural villages and small fishing communities that appear to have let the modern world pass them by. The route was designed as a hiking trail but can equally be tackled on a mountain bike. Look out for the red and white signs to guide you along the way.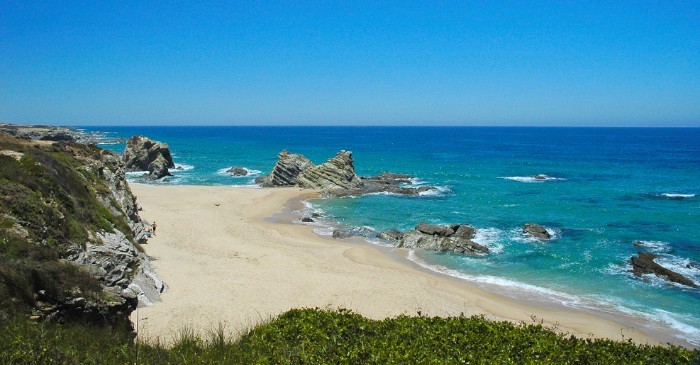 The 110 km Fisherman's Trail is strictly a walking-only path. It is more physically demanding that the Historical Route, running up and down the steep cliffs and through the valleys which have long been the routes taken by local villages to get to the sea. The stiff Atlantic wind will keep you company but the stunning views of one of Europe's best preserved and least developed coastlines will help keep you motivated as you follow the green and blue arrows up the next steep climb ahead.
There are several good places to rest along the way, from beds in local farms to well-appointed hotels in the few small towns that the route passes such as Vila Nova de Milfontes.
This is a new initiative and those who walk the trail this year will enjoy many stretches without meeting other walkers. In time it is hoped that the Rota Vicentina will attract more tourists to the region, so if you like your walking in isolation now may be the time to visit.