After our little trip to Sweden for last month's Sunvil Supper Club, we've decided to go back to Greece and the beautiful eastern Aegean island of Samos. Over the centuries Samos has been autonomous, Persian, Roman, Ottoman and Greek which has left it, like many other islands in the Aegean, with a very mixed heritage, which can be seen both on the island and in its cuisine. To celebrate Samos' rich culinary history we have decided that for November's Sunvil Supper Club we will make a Pumpkin Pita Pie.
 This is a filo pastry pie, made with layers of pastry interspersed with a mouth-watering pumpkin, feta cheese and mint filling – not to be confused by its sweet counterpart from the United States. This combination of flavours works fantastically well, with the sweetness of the pumpkin and squash balanced out by the salty flavour of the feta, whilst the mint gives the whole dish a fresh taste. The pumpkin pita pie can be served either own or with a crisp salad. With the nights getting longer and colder here, this dish is a great way to bring back memories of holidays on Samos, or to just pretend you are somewhere warm and sunny.
Are you a budding blogger? Or do you know anyone who is? Each month we get some bloggers to try out our recipes, and we're always on the lookout for more people to give us their feedback. If you are interested in taking part, or would like some more information please drop us a quick email, our address is info.supperclub@gmail.com .
If you are feeling inspired to make this pie then simply download the November Sunvil Supper Club recipe card below, it's as simple as that! We also would love to hear your thought on the recipe and seeing how yours turned out, so please share your thoughts and photos with us – just fill in the comments box at the bottom of this page!
To download your recipe card, follow the instructions below:
– Click on the recipe card image below – this will take you to a new page with the recipe card on it.
– From here right click on your mouse and click the 'save as' button.
– Save the card wherever you choose and then open it up.
– Once you have opened your recipe card you print it using your chosen printer.
– All you have to do now is go shopping!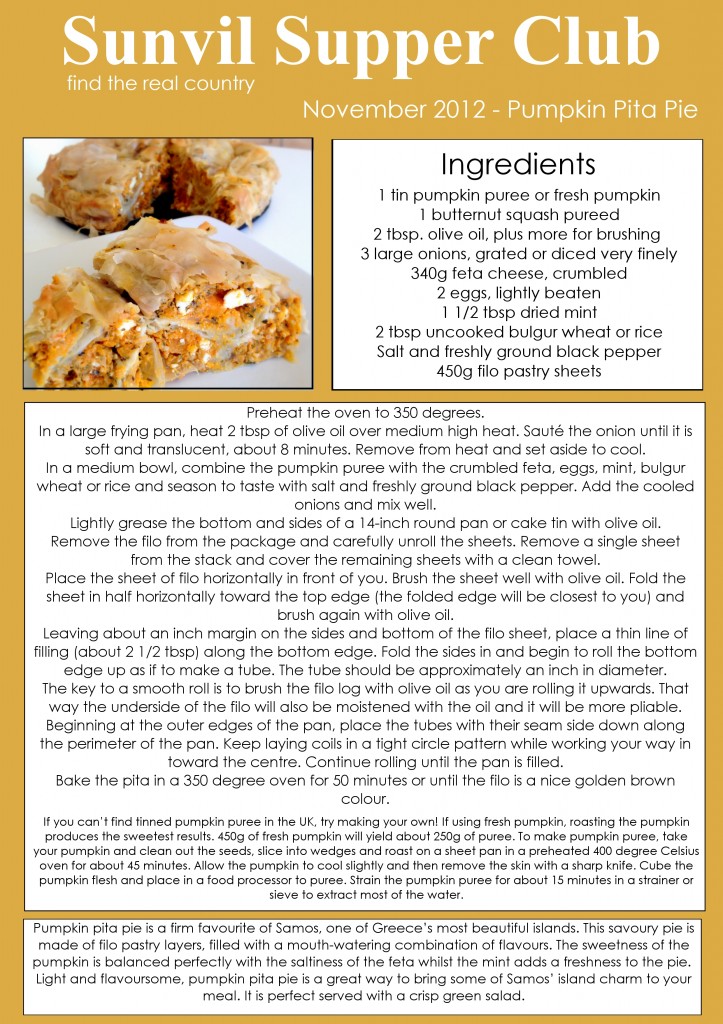 Alternatively, download the PDF version of November's Sunvil Supper Club recipe card by clicking here.