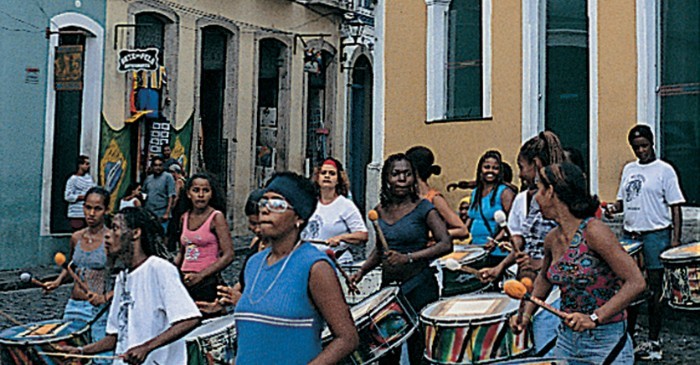 No-one is quite sure how capoeira started, although it's commonly accepted that its roots lie with the 16th century Africans who were shipped across the Atlantic as slaves. When its proponents first arrived in Brazil activity of this sort was not permitted and so it was performed in secret. Resembling more of a self-defence ritual, the movements of capoeira evolved over time into a graceful form of combat that we can recognise as the Afro-Brazilian marital art that it is today.
A capoeira fighter is distinguished by his constant motion and rocking back and forth. The movements are designed to put a potentially larger and better armed opponent at a disadvantage and the effectiveness of capoeira as a mean fighting method have led to its rather dark reputation over the years. Capoeira usually takes place to the beat of traditional Brazilian music.
Capoeira participants form a roda (circle) and take turns playing instruments, singing and sparring in pairs in the centre of the circle. The martial art/dance exercise is marked by fluid acrobatic play, feints and extensive use of groundwork using sweeps, kicks and body-throws.
Salvador da Bahia is the spiritual home of capoeira and the city from where it established its place at the heart of Brazilian culture. Today in Brazil there is a renewed interest and widespread acceptance of capoeira. Indeed many students who come to Salvador to learn the Portuguese language also learn the moves of capoeira as a way of keeping fit. You may have even seen Michael Palin try his hand at capoeira in the recent BBC TV series Brazil.
There are regular displays of Capoeira in the city and Saturday is a good day to visit one of the many academies where you'll find the best displays free of charge. So if you do visit Salvador make sure you you take the time to relax as you watch the capoeira masters perform in the streets.  You'll be watching five centuries of Brazil's colourful history in action!
Estrela Community Project
Estrela Community Project offers another great way to experience the magic of capoeira and at the same time witness the culture of Salvador through a grass roots community initiative. For over 10 years, this Brazilian-British charity has worked in partnership with local community projects to provide benefits to disadvantaged communities by bringing people together from different countries, and educating visitors about Brazilian culture.
There are several community initiatives that tourists can visit and among these is the opportunity to learn more about local art and dance. The Estrela tours not only provide a culturally rich experience for travellers, but allow people from the local community to broaden their horizons, raise self-esteem and generate some much needed income.
At Sunvil we offer private guided excursions to the Estrela Community projects as part of our Brazilian program. 50% of the cost of the excursion will go directly to the host community project and the remaining 50% for the operational running costs of Estrela.