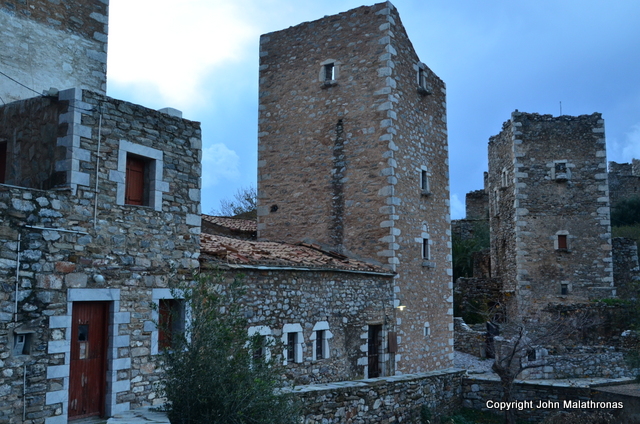 They say that Mani is another world and the Maniots a race apart: curt, hardy, traditional, fiercely independent. Mani is Greece's Montana. Survivalists would love it.
This is my first time down the Mani peninsula which, as the locals relish pointing out to me, is the long, middle 'finger' of the Peloponnese, which Maniots like showing to the world. They certainly did so during the Ottoman occupation. The Turks never really conquered it; they came to an amicable arrangement with the local warlords: you declare your obedience to your Sultan, send him a few presents every year and we'll leave you alone.
Mani is a tough region where the Taygetos mountain range descends abruptly upon the sea with only a few bays able to function as small harbours. The further south you go, the rarer they become. But the lack of a benign coastline is a bonus to the first-time visitor. The road from Kalamata towards Cape Matapan, continental Europe's most southern point, is ranked with the most scenic in Greece. It zigs and zags between the beauty of the lower Taygetos slopes full of pine trees, evergreen oaks and wild flowers, and the magnificence of the rugged coast. Only a few times do you descend at sea level; this is a highway where you drive above the coastline gazing far into the horizon.
After a two-hour drive from Kalamata, the pretty port of Gerolimenas comes as a relief. It may be a one horse-harbour, but a harbour nevertheless: small but perfectly formed. It used to supply the whole of the Lower Mani hinterland. In the 1880s one of the local panjandrums, Theo Kyrimis, turned it into a major commercial hub exporting some unlikely Maniot products to the markets of Piraeus and beyond. At the zenith of its sway, no less than 7,000 live quail a month were exported to Marseilles for consumption. The large warehouse is now a boutique hotel.
There are no trees from here on. The vegetation is scrub and sparse, while a solitary building signposted "The Last Petrol Station" warns you that this is your last chance to tank up before Cape Matapan. The final drive to the cape – itself only reached by a 20-minute footpath – is as barren as a backdrop of a Hollywood Western.
And yet..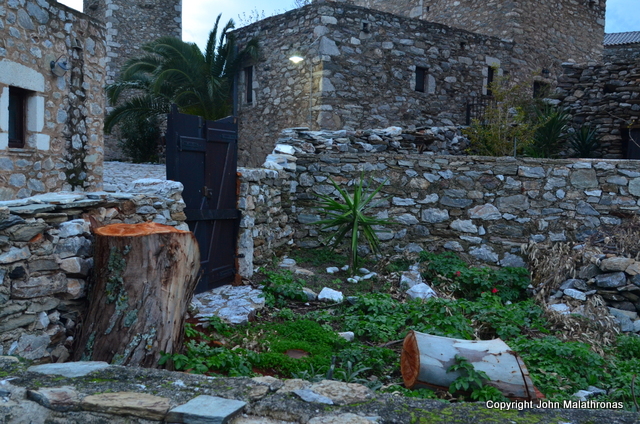 And yet, Greece has ways of springing a surprise on you when you least expect it. Mine was called Vathia.
On the road out of Gerolimenas, past the last-stand petrol station lies a traditional Maniot white-stone village where every house has a square two-storey tower plus an unhindered view to the sea and beyond. Except that this is a ghost village the type one finds in those rectangular states of the American Midwest. The effect is eerie, and it's made even spookier by the setting sun. This could be the setting for a Danny Boyle zombie movie.
There are two ancient phone booths in the extended curve of the highway where I park the car under a palm tree. I check. Why two? Ah, only one working. Above me there are birds nesting among the ruins, while to my left a rotten staircase leads to nowhere in particular. I climb up another and step on a mouldy terrace.
You can sometimes smell isolation. It's the combination of dust and damp, the smell of forest inside a village. I see flowering geraniums, but not on a windowsill; they're growing on the ground where the seeds must have been blown years ago. Cow pats are on a every flat surface as well as those perfectly round goat droppings. It's getting darker and colder. As birds return to their nests and the bats are coming out, I can't help but thinking that this is what a haunted town must feel like.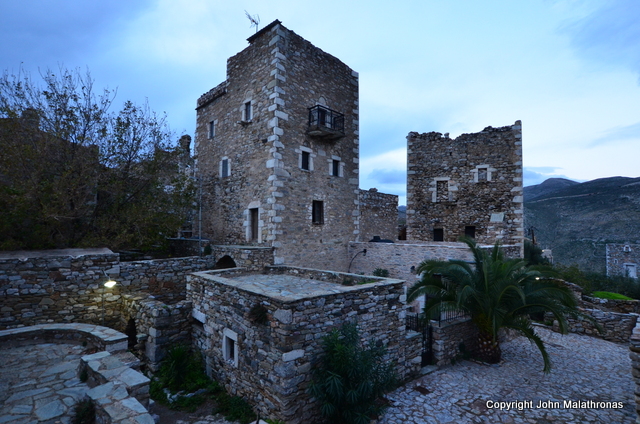 But there is an electric pole. Hey, a cable! Electric light! Brown beams lie exposed on the side of one house, just below a satellite dish. There must be someone living here. Indeed, the silence is so thick that I hear a man speaking on his mobile. I can hear every where enunciated clearly, as if I were in a theatre. How do I know it's a mobile? Dunno.
Someone is walking towards me with three dogs. He's middle-aged, tall, athletic, well-dressed – not at all like an emaciated wraith or a bloodthirsty zombie.
His dogs surround me wagging their tails with unconcealed excitement. A stranger! One bitch is far too friendly: she jumps on me and tries to lick my camera.
'Hi', I greet him in Greek. 'I didn't know that anyone's living here.'
He tells me that yes, four families live on the furthest side of the village, on the other side from the highway.
I want to ask what makes him want to live in a half-dilapidated village at the end of the European continent with two public phone booths of which only one is working, but I feel I'll sound patronising. I say goodbye and start my car.
They do, after all, say that Mani is another world and the Maniots a race apart.
John Malathronas is a versatile travel writer and photographer who has published three narrative travelogues on Brazil, South Africa and Singapore, has written for popular newspapers and magazines and co-authored guidebooks for Michelin and the Rough Guides. He also writes on his own blog, The Jolly Traveller.
Why not take a look at our selection of our fly-drive holidays to explore Hidden Greece, including itineraries in the Peloponnese that take in Vathia.