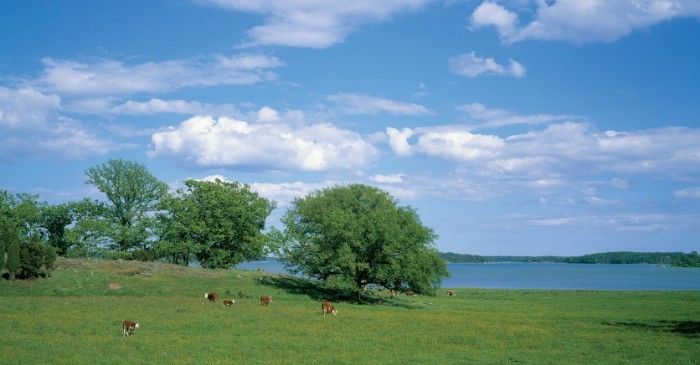 Have you ever chosen a holiday purely as a result of reading a good book? Most novels have a single location in which most of the action is set and when we get absorbed into a compelling story we build up a picture in our minds of how that place looks. We imagine the streets, the houses, even the places where the main characters eat, drink and sleep. When we've closed the book for the last time we still have those locations in our minds and recollect them whenever we hear that place mentioned.
So it is with Sweden and a book I recently finished, The Hundred Year Old Man Who Jumped Out Of The Window And Disappeared by Jonas Jonasson. I'd highly recommend the book, a humorous tale of an old man who embarks on a life of reckless abandon on his 100th birthday. I won't spoil the story at all, but it's enough to say that the main character Allan sets off on a madcap adventure that takes him across a wide area of rural Sweden west of the capital Stockholm. The book has sold 3 million copies worldwide and is now being made into a movie.
While reading the book I built a picture in my mind of this part of Sweden and am now intrigued to explore the area to see how it really looks. The beauty of a book of course is that unlike with a film, each person reads the words and conjures up their own pictures. So I have my view of how this part of Sweden looks and my wife, who read the book immediately after me and listed it as one of her favourite ever, has an entirely different set of images. Yet the seeming familiarity with a place that a book rewards us with is enough to make us keen to visit.
Many books have had a similar effect. Dan Brown's Da Vinci Code had fans heading to Paris (and up to Scotland) to find sites mentioned in the book, while another Swedish classic, The Girl with the Dragon Tattoo, has led to an interest in finding the book (and the movie) locations around Stockholm.
Visit the area west of Stockholm and you'll find the rural regions of Vastmanland and Sormland full of great places to visit. There are hundreds of old manor houses, castles and many miles of hiking trails for nature lovers to enjoy. With industrial and cultural heritage in towns that dot the countryside, a driving holiday through the region can reveal a side of Sweden that even a 100 year-old couldn't resist.
A holiday around this beautiful part of Sweden can be tailored to your preferences, such as this suggested itinerary around Sörmland and Västmanland.