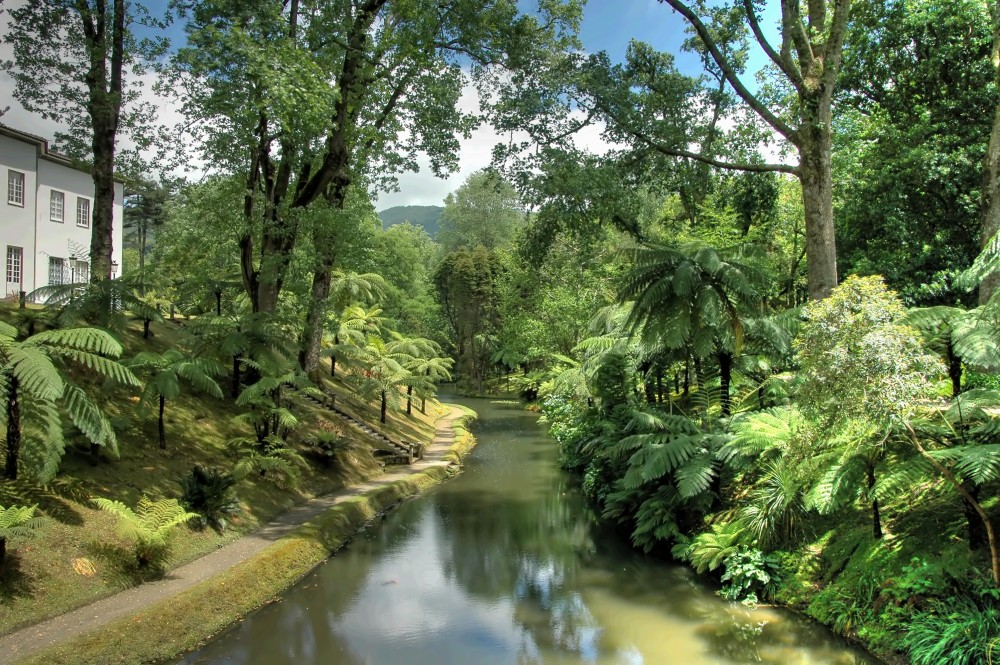 The Azores are renowned for their mild climate which allows fauna to grow on the islands that is not seen anywhere else in Europe. For gardeners or nature lovers it's easy to spend a whole week exploring the famous gardens of the Azores. Here are just a few of the highlights that you can expect to find on a garden tour of the island of Sao Miguel:
Antonio Borges Garden
Created in the mid 19th century as a rich man's extravagance and designed largely by English gardeners, this parkland within the town of Punta Delgada has all the accessories you'd expect if you were imagining a typical Victorian garden, including a boating lake complete with romantic bridge. Borges acquired a selection of rare plants and trees for his garden, only some of which have survived for 150 years and can be seen today.  The most remarkable specimen in the garden is the giant Indian rubber tree, ficus elastica, with its dense mass of tangled roots evidence of its grand old age.
Pineapple Plantation
this is the only pineapple plantation in Europe and you can wander through the greenhouses and inspect pineapples in various stages of growth. Perhaps the main attraction here is the gift shop, where you can enjoy free samples of pineapple liqueur and pineapple flavoured boiled sweets.
Terra Nostra Garden – and the Cozido
Perhaps the best known of the gardens in the Azores, the Terra Nostra garden in Furnas was established in 1770 by American Thomas Hickling. It is believed that only one oak tree has survived from Hickling's time, but the garden has seen a succession of enthusiastic owners with each one adding their own touches and introducing further species. It's easy to pass a whole day wandering along the avenues and paths of the botanical garden admiring the water lilies, ferns, camelias and the rhododendrons, which cannot grow anywhere else in Europe without protection.
While in Furnas it is almost obligatory to enjoy a cozido, a meat and vegetable stew, cooked in nature's own oven. The steam vents that rise in this area of geothermal activity have long been used by local people to bake their bread and cook their favourite stews.
Jose do Canto Garden
The product of one man's obsessive botanical work, the Jose do Canto garden houses perhaps the finest collection of trees among all of the Azorean gardens. Do Canto made detailed methodical notes in setting up his Victorian-style garden, listing the species he wanted to acquire and introduce to his garden. In the early years do Canto employed a team of foreign gardeners to help him with his work, all of whom were believed to be English.
Gorreana Tea Plantation
Here you will find Europe's only tea plantation, in existence here since the late 19th century. Tea plants were brought here from China and Chinese tea planters came from the Portuguese territory of Macau to help develop the crop on Azorean soil. Now around 30 tonnes of tea are grown on the plantation each year and exported mainly to Portugal and other European countries.
The museum on site tells the story of the early days of tea production in the Azores. Old machinery is on display in the museum along with photographs of rows of women and girls engaged in picking leaves. Now the job is done by large tea-picking machines.
Take a look at our Sao Miguel Garden Tour itinerary, departing in June 2013 and led by horticulturist and plantsman David Sayers, author of the best selling Bradt travel guide to the Azores.
Image by Christer Johansson on Wikimedia Commons