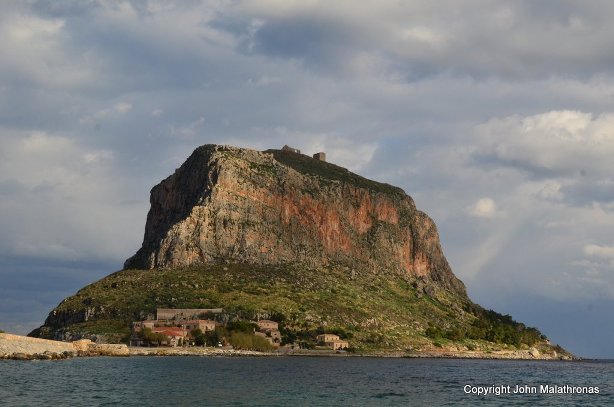 Greece is for summer holidays, right? Yep, I, too, live in the cold, wet and cloudy British climes, and I know what guaranteed sunshine means. Yet the country's varied landscape can offer much more than that. Have you considered where to go during those short February or November school breaks?
Yes, there are some parts of Greece that offer holidaying possibilities year-round and I'm not talking about the big cities of Athens or Thessaloniki with their rich culture credentials. You can also forget the various islands that spend the winter in splendid isolation. It is the hideaways of the southern Peloponnese with their beaches, their mountains, their mild weather and their seasonal agricultural rhythms that are the true year-round havens.
I am in that corner of Greece right now: my friend Theo Terzopoulos is showing me around the Laconic coast. It's a sunny, mild morning of what passes as winter here. It's mid-December but the evergreens surrounding us – Mediterranean oaks, pines, cypresses, sycamores, orange and olive groves – tease me into believing it's already spring. The ground slopes mildly eastwards and the view is dominated by the grand rock of Monemvasia, "The Gibraltar of the East", jutting into the sea.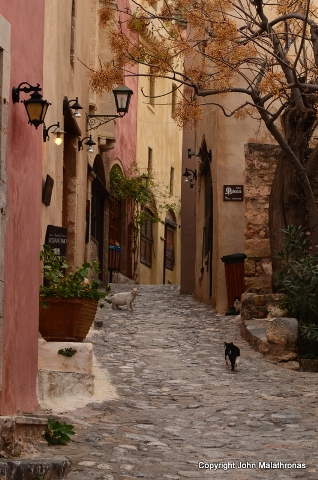 Byzantines, Ottomans and Venetians fought continuously over this naturally fortified city, separated by the tiniest of straits from the mainland. Nowadays, it's one of the best-preserved medieval towns in Greece, full of with narrow alleys, worn battlements and – my favourite – cute, superannuated churches with less capacity in their interior than a medium station-wagon. 'That's the cultural focus of the area,' says Theo, because any year-round destination must have some historical or artistic nerve centre, always alive, always photogenic, independent of the weather. 'During the summer hordes of tourists visit the rock and wander around its narrow lanes. You'd be better off coming in the shoulder season.'
There are several clean beaches either side of Monemvasia so ticking off the obligatory sun, sea, and sand trinity of summer. 'Spring here is a delight, though', Theo continues. 'There are twenty-odd footpaths between 45 minutes to four hours on the slopes of the Parnon range. Some of them are part of National Trail E33 and some are well-worn routes joining villages and homesteads.'
Sold. That's the hiking figured then.
Later I was to walk the path between Aghios Stefanos and Nomia, one that offers outstanding views of the Monemvasia castle. It goes by three magnificent country houses of the old noble families who controlled the area and one of the many springs that irrigate the fields. 'August and September are the most interesting months,' Theo says. 'That's when the grapes are picked in the vineyards. In certain areas, you can trample the grapes barefoot.'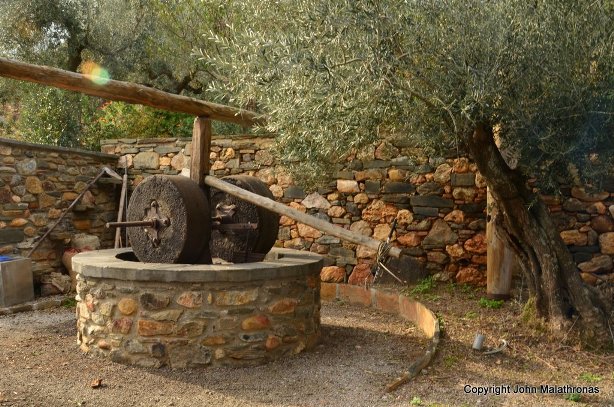 I look at him questioningly. 'No, we don't make wine like that any more,' he smiles. 'It's for tourists only, but it's great fun. Have you ever been grape-stomping yourself?'
We have now finished our tour and Theo has brought me to a traditional winepress above the village of Aghios Stefanos which belongs to Hotel Kinsterna. I have to admit that getting all mucked up while dancing on grapes sounds priceless. I wonder if it's for that reason that mostly men participate in this activity. 'The wine of this region', Theo tells me, 'is called Malvasia, a corruption of Monemvasia. It used to be rather famous in years past'.
Indeed, this is Shakespeare's 'malmsey wine' (a corruption of a corruption so to speak) in a vat of which the Duke of Clarence wished to drown in Richard III. Yet, although Malvasia vines were replanted all over the Mediterranean by the Venetians, Monemvasia only started producing its trademark wine again around 2010. 'This area was continuously being fought over,' explains Theo. 'Vines are very delicate plants and need a lot of care and attention, so the population switched to olive production.'
Which brings us to the winter. 'Between November and February the olive harvest is afoot,' says Theo showing me an old olive processing plant, a liotrivi. 'A tree is ready for harvesting when its olives are half green and half purple. This one,' he points at a tree nearby, 'is just about right.' And he goes on to pick some olives to show me.
'First, the olives are collected and placed inside the mill. A horse turns the grindstone round to mash them into a puree. We then go to the press and arrange alternate layers of cheesecloth and olive puree, cheesecloth and puree – like lasagne. We turn the corkscrew, press the pure and collect the oil in a stainless-steel bucket."
But it's December now, why isn't there any oil making going on? 'I think there is a demonstration next week', says Theo. 'Will you be around?'
I curse through my teeth. But I'm definitely coming next year for those grapes…
John Malathronas is a versatile travel writer and photographer who has published three narrative travelogues on Brazil, South Africa and Singapore, has written for popular newspapers and magazines and co-authored guidebooks for Michelin and the Rough Guides. He also writes on his own blog, The Jolly Traveller.
Why not take a look at our selection of our fly-drive holidays to explore Hidden Greece, including itineraries in the Peloponnese that take in Monemvasia.