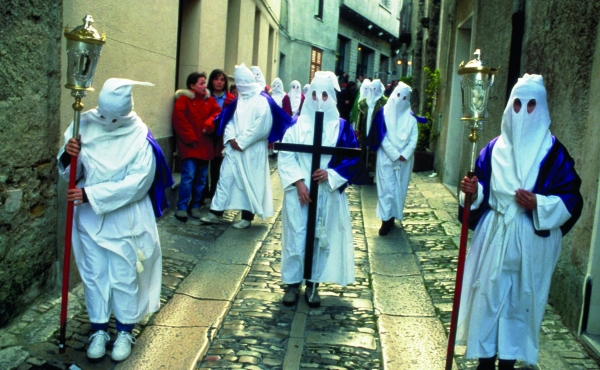 There are many good reasons to visit Western Sicily. Home to the historic delights of Palermo and the delightful harbour town of Cefalu, the region is a summertime treat for those looking for culture, good food and a relaxing time in the sun. In one town however, the main celebration of the year arrives in the springtime, before the masses of sun-seeking visitors arrive on the island. The Easter celebrations in Trapani are renowned for their faithful observance of medieval traditions and attract visitors from all over the world.
During Holy Week the streets of Trapani are abuzz with vast crowds take part in many processions and festivities. It is the Good Friday Processione dei Misteri (Procession of the Mysteries) for which Trapani is best known. On this day 20 elaborate figures, carved out of wood by Trapani's finest craftsmen in the 17th and 18th centuries, are paraded through the streets of the town by various groups of men. The men are normally defined by their trades, again alluding to the medieval times when a man's trade defined his identity.
The figures, each either depicting one of the Stations of the Cross or the Virgin Mary, are anything but lightweight as the video clip below demonstrates. They are carried around the town all day on the Friday and also on the following evening, until the beginning of the Easter Vigil mass that marks the end of solemn mourning and the beginning of several days of wild celebration.
It's not all about religion however, and while the statues are the main focus of attention the streets at this time are lined with stalls selling fruits, meat and locally made sweets. Lights illuminate the narrow lanes and the atmosphere is heavy with the smells and sounds of the Easter traditions. Some of these traditions clearly have their roots in the Jesuit order's presence in Sicily from the 16th century, but others are noticeably pagan and commemorate the start of springtime. It's a mix of religious and secular heritage that can be found all around the island of Sicily.
Similar celebrations of the mysteries are held in nearby Erice and Marsala, where local men re-enact the steps of Jesus depicted in the Stations of the Cross in a performance that has been preserved for over 400 years.
You can stay at the tranquil Baglio Ingardia, which is only 7km from Trapani. Visit our Sicily holidays page for more details.