Pasteis de nata are a Sunvil favourite! The most popular of Portuguese pastries, they are enjoyed around the world. They are made with flaky puff pastry and filled with a caramelized creamy egg custard, dusted with cinnamon.
They were first created before the 18th century by Catholic nuns at the Jerónimos Monastery in Belém, Lisbon. Next door to the monastery, was the Casa Pastéis, then a sugar cane refinery and a general store. As a result of the liberal revolution all convents and monasteries were shut down in the 1830's. Someone from the monastary offered to sell the pastries in the general store next door. The pastries became known as 'Pasteis de Belém'. The refinery and shop which now serve as a café, still bake and sell the cakes using the ancient 'secret recipe' passed on by the monastery. Since then 'Pasteis de Belém' from Casa Pastéis continue to be popular with locals and tourists alike.
We recommend you visit them on a trip to Lisbon and enjoy 'Pasteis de nata' warm out of the oven and sprinkled with cinnamon, along with a coffee (um bica)!
To download your recipe card, follow the instructions below:
– Click on the recipe card image below – this will take you to a new page with the recipe card on it.
– From here right click on your mouse and click the 'save as' button.
– Save the card wherever you choose and then open it up.
– Once you have opened your recipe card you print it using your chosen printer.
– All you have to do now is go shopping!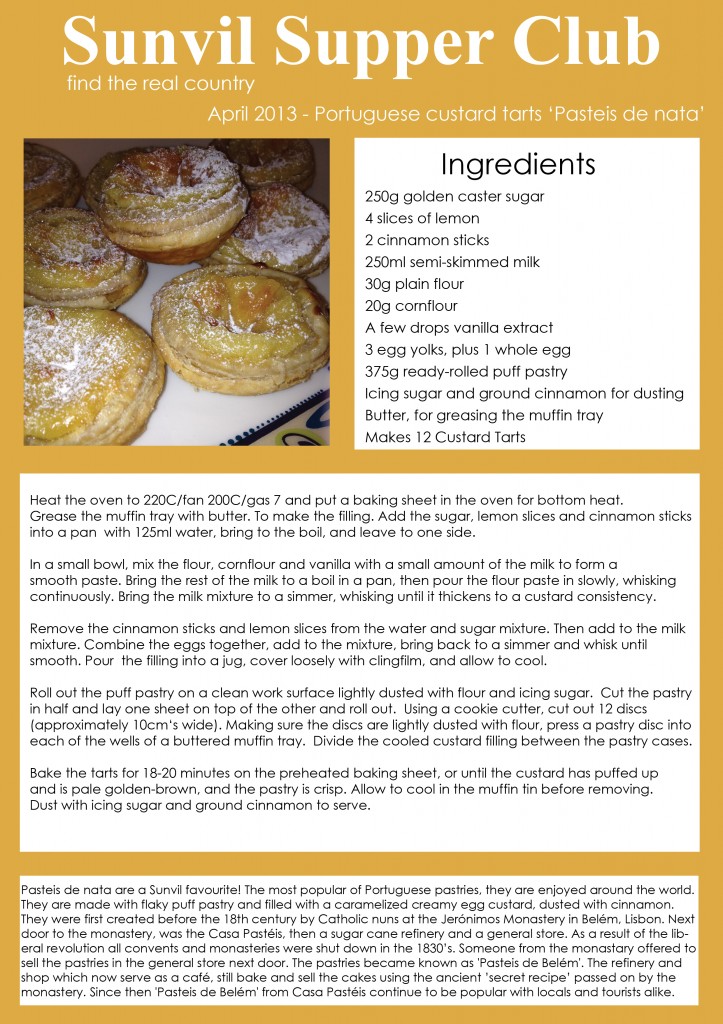 Alternatively, download the PDF version of April's Supper Club recipe card  by  clicking here .
Are you a budding blogger? Or do you know anyone who is? Each month we get some bloggers to try out our recipes, and we're always on the lookout for more people to give us their feedback. If you are interested in taking part, or would like some more information please drop us a quick email, our address is info.supperclub@gmail.com.