Nikos is a short, softly spoken pensioner, still sprightly and gregarious after all these years.
'This,' he says unlocking a door, 'is where Bruce wrote that last book of his'.
I walk into a large room with a kitchenette , a double bed, a writing table and a balcony overlooking the Messenian Gulf with a view of orange groves and Kalamitsi Bay. It's not different from any luxury self-catering apartment in Greece except from the large, signed photo of Bruce Chatwin on the wall. He's wearing a cagoule, a backpack and his boots are hanging from his neck; the archetypal image of a travel writer. I lock eyes with his. They seem both distracted and sad.
'Did he do much cooking during his stay here?' I ask Nikos looking at the kitchen. Chatwin stayed here during the winter of '85 writing his book "Songlines" on his trusted typewriter.
'He only brewed his Indian teas', replies Nikos. 'He mostly dined with us.'
Thea, Nikos' wife enters the conversation.
'Bruce liked fasolada', she adds, referring to the Greek white bean stew, a staple of the Peloponnese.
'No', Nikos corrects her. 'He liked your fasolada'.
Thea looks out of the balcony..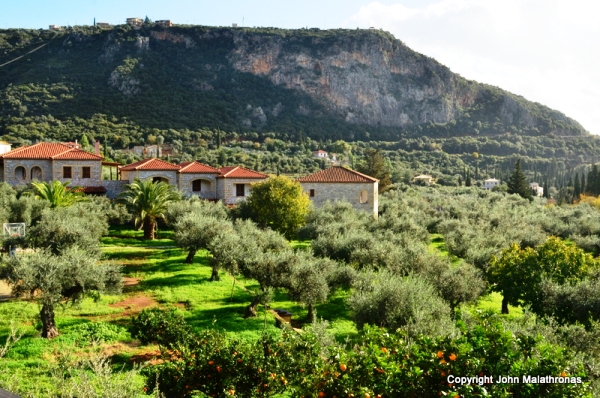 An old farmhouse in a forgotten corner of Greece – now a luxury hotel – that claims one of the most influential twentieth-century travel writers is a rarity, indeed. But to claim more than one is preposterous.
And yet, Nikos and Thea Ponireas, the elderly owners of Hotel Kalamitsi, just outside the family resort of Kardamyli in the Upper Mani peninsula can provide me with stories not just about Chatwin, but also about another great man of travel literature. I knew that Kardamyli was popular with Brits, but it's only now I find out the full extent of this long love affair.
'Michalis,' Nikos starts, 'was very devoted to his writing'.
He's talking about author Patrick Lee Fermor, who lived next door to the hotel.
'Why Michalis?' I ask. 'His name was Patrick.'
Nikos shrugs his shoulders.
"That's how we called him", he retorts. "He even celebrated his Greek nameday on November 8, the day of the archangels Michael and Gabriel. Between here and his house, you'll see the small country church of the Two Archangels where every year the priest held a mass for him on that date. Thea and Michalis cleaned and decorated the church every year together. He also threw a party afterwards where the whole village was invited. And everyone came for him."
Patrick Lee Fermor has been described by the BBC as 'a cross between Indiana Jones, James Bond and Graham Greene'. He has received both an OBE and a DSO for his service in German-occupied Crete during World War II, where he functioned as a Special Operations executive with the Greek resistance. One of his most astonishing and daring exploits was the kidnapping of General Kreipe, military governor of Crete, in May 1944. It is much later I discovered that 'Michalis' was his special ops nickname during his time in Crete.
Back in the present, Nikos betrays none of the natural reticence of the Maniots when talking about Fermor. 'Typically English' he says,' he was polite, very active and athletic. He was a great walker. Every evening at 6pm he walked for at least 10km a night. He loved the place and the walks around Kardamyli. He knew everyone and he remembered everyone's name.'
Fermor wrote about Mani and Kardamyli in his books, but also about many other places in Greece. Why did he eventually settle here?
'It was the combination of mountain and sea', says Nikos. 'The only other area I know he considered buying land in was near Monemvasia on the other side of the Peloponnese. Like Kardamyli, it has a good combination of swimming and hiking.'
Still, it was in Kardamyli Fermor decided to stay. He lived there from 1965 until his death in June 2011. His presence turned the small fishing village into a literary magnet. George Seferis, recipient of Greece's first Nobel literature prize was a regular. So was Andreas Embeirikos, a major Greek surrealist poet and Konstantinos Tsatsos, a politician and historian.
So was Bruce Chatwin.
Chatwin may not have lived in Kardamyli much, but he loved it so intensely, he returned after his death. I'm about to make a pilgrimage to where his ashes are buried. Nikos gives me directions to the church of Aghios Nicholaos in Exohori, a village 8km east of Kardamyli, where he, himself, buried Chatwin's ashes.
And if you should come to Kardamyli on November 8, remember to visit the small church of the two Archangels, for the village still celebrates Fermor's nameday in his honour.
John Malathronas is a versatile travel writer and photographer who has published three narrative travelogues on Brazil, South Africa and Singapore, has written for popular newspapers and magazines and co-authored guidebooks for Michelin and the Rough Guides. He also writes on his own blog, The Jolly Traveller.
Why not take a look at our selection of our fly-drive holidays to explore Hidden Greece, including itineraries in the Peloponnese that take in Kardamyli and Kalamitsi.