"Don't forget your driving licence", I was told, two days before the start of my first ever visit to the spectacular Lofoten Islands and its equally impressive neighbour, Vesterålen.  My excitement of visiting these unspoiled rugged islands of Norway quickly gave way to dread as I had heard that there was still a lot of snow on the ground, slightly unusual for April as it normally would have melted away as spring arrives. Now, the thought of having to drive on snow and ice usually has me running for the bus…. well in London at least. However, my fear was proven wrong on driving away from Leknes Airport, so wrong in fact that I went from being the additional driver to self volunteered designated driver.  With winter tyres, most roads clear of snow and no congestion outside of the main towns and cities the only thing I had to worry about was missing a great view.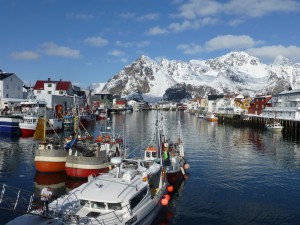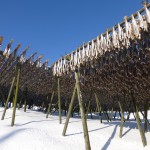 The Lofoten Islands are well known for their fishing industry. I am told it is what made Norway, and all around the Lofoten small fishing villages are evident, many with original fishermen houses, known as Rorbu's, still standing the test of time.  Today you will not find numerous fishermen crammed into these houses, catching up on sleep or mending nets inbetween fishing trips, but guests from all over the world who have come to experience a piece of Norway's history. Rorbu's come in all shapes and sizes, old and authentic to new and modern, and one of my favourites that I visited is found in Nusfjord, located approximately 28km from Leknes Airport.
Nusfjord, one of Norway's oldest and best preserved fishing villages, offers comfortable lodgings with 50 Rorbu's, 4 of which are protected, scattered around the village.  Brimming with history, you can stand where fishermen once worked in one of the various boathouses or make a purchase at the general store, built in 1907, which has retained the look of yesteryear.  This living museum, popular with visitors during the summer months, also features many historical buildings such as the bakery built in 1877, the cod liver refinery and protected power station, both dating from the early 1900's, a sawmill, and the Oriana Kro inn which was constructed in 1887.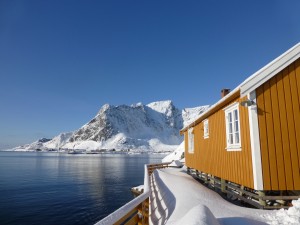 Heading north, the drive from Nusfjord towards Vesterålen takes you through many charming villages and past numerous photo opportunities – you soon discover that timekeeping loses out to stunning scenery everytime!  Infact, the 166km stretch of road known as the E10 which runs from the southernmost village of Å to the northern village of Fiskebøl, for the ferry crossing to Vesterålen, has been selected as a National Tourist Route.  During the drive it becomes clear why, sandy beaches, crystal clear waters and jagged mountains all add to the enchantment of these islands.  If time permits, pre-book and schedule in a visit to the Polar Light Museum in Laukvik, a must for any Northern Lights enthusiast.  Passionately run by Rob and Therese, they share with you their experience and knowledge of this natural phenomenon, teaching you how to enhance your opportunity of a sighting as well as assistance on photographing the Aurora Borealis if required.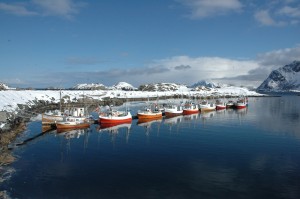 Travelling through Vesterålen, although the mountains are slightly more rounded in shape, the drive is just as stunning.  Stop en route at the Hurtigruten Museum in Stokmarknes where you will learn about 'the fast route' which was founded in 1893 by Captain Richard With, and which today still provides an efficient ferry connection in Norway covering 2400km of it's coastline.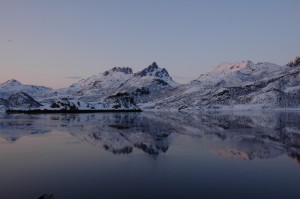 However, my trip involved taking the slower and picturesque route to the Ringstad Sjohus in Ringstad, located on the island of Langoya, for the last part of my journey.  The five apartments offer comfortable lodgings and Karina and Ian, who manage the property, pull out all the stops to ensure you leave relaxed and content.  Surrounded by mountains, small islands and the silence of the fjords, Ringstad is an ideal location for participating in various activities such as white-tailed eagle boat trips, kayaking, fishing, snow-shoe tours, hiking and photo courses.  The perfect end to an unforgettable trip, with kilometres of memories, and already looking forward to my next drive around Norway!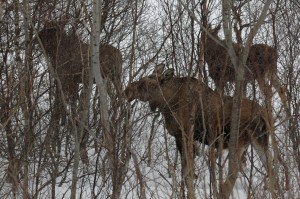 Yasmin, Sunvil Discovery