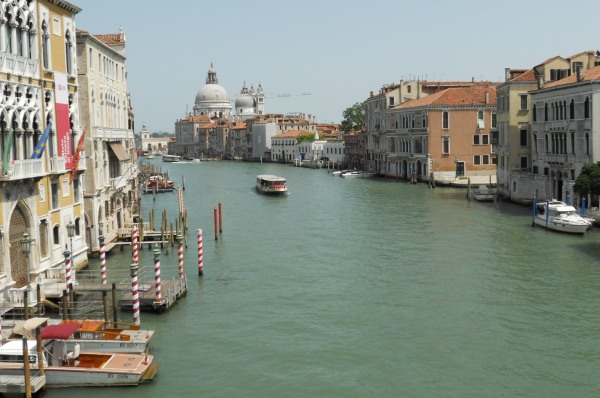 Imagine the Oxford-Cambridge boat race, but with a river packed with boats. Add to that a splash of vibrant colour, with all manner of costumes and outfits worn by the assorted collection of oarsmen. Throw in plenty of chatter and laughter, photographers, onlookers and a dose of warm sunshine for good measure. Oh, and one of the world's most instantly recognisable backdrops. There, in a nutshell, you have the Vogalonga, Venice's annual rowing extravaganza. This clip of the 2012 Vogalonga nicely captures the joy and excitement of the event:
What started as a friendly race between two Venetian men in 1974 soon attracted others, keen to preserve the pleasures of rowing traditional boats in a world being taken over the power of the motor engine. From a few boats coming together to join the party along the grand waterways of Venice, the numbers rapidly grew and have continued to do so even to this day. Vogalonga now attracts participants from every corner of the world, with the 2012 event hosting 1,802 boats and 7,226 rowers. This year's event may even top 2,000 boats for the first time.
Unsurprisingly Venice is even more packed than normal on the weekend of Vogalonga, with the event not only bringing those taking part to the city but also many thousands who come to watch from the sides of the canals and from the surrounding buildings. When the rowing is done (and long before it even starts) the party gets into full swing with the food and wine flowing freely. Don't come during Vogalonga and expect an early night in Venice!
The Vogalonga route stretches for 30 km and as well as taking in the famous Grand Canal, rowers negotiate a circuit that covers many of the outer islands beyond the busy hotels and restaurants around St Mark's Square and the Rialto Bridge. Vogalonga 2013 takes place on Sunday, 19th May. See the official website for more details.
If you can't make it to Vogalonga but still fancy the idea of a weekend in Venice,  May is a great time to visit. The weather is usually warm but not too hot and, with the exception of the Vogalonga weekend, you'll escape the worst of the overcrowding for which Venice is so well known.
Check our main site for more ideas for short breaks in Venice. Accommodation options include the Ca'd'Oro, located in a quiet corner of the Cannaregio district.