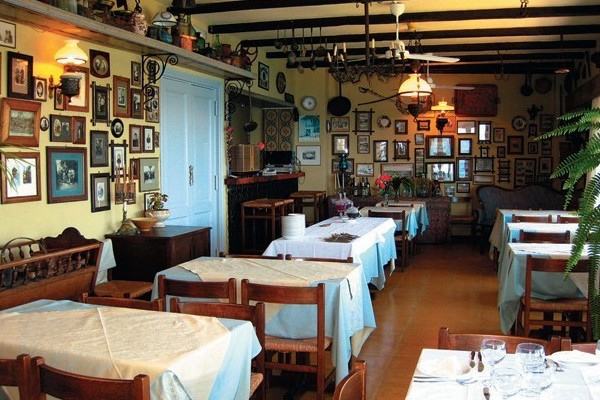 On my visit to the Greek islands earlier this year I stayed in several outstanding hotels, each of which were managed by the people who started them and now ran their establishments as a labour of love. While nobody runs a hotel without trying to make at least a small profit, it was clear in each of these cases that the passion of the owners lay not in seeing big numbers on their balance sheet, but in doing what they do to an excellent standard and delighting their guests.
There is something about running a small hotel that brings out the creative side in people. Perhaps it's the freedom to create (within your financial constraints) the type of experience that you yourself would crave if travelling and looking for a home away from home. Or perhaps it's that spark of unorthodoxy that is required to make you stand out from the many others trying to do the same thing.
And so it is at the Hotel Doma, where two sisters, Irene Valyraki and Ioanna Koutsoudaki, both born before the war, still run the hotel that was once their childhood home before being occupied by both British and German forces. They were evicted as children and had to look on as troops and government officials took over their house – it even served as a British Consulate for some time after the end of World War Two.
The sisters are still actively involved in running the hotel. That Ioanna was an interior designer no doubt helped as they began their project of developing their home into a guest house. Their attention to detail and discreet service soon had well-heeled guests arriving from around the world, including visitors from Britain and Germany who had known the house during its occupied years.
The hotel prides itself on its fresh local produce and Ioanna's home-made marmalade has a global reputation, winning the praise of Italian author Antonio Tabucchi no less. It has also recently impressed Gregory Day, an Australian author who visited the hotel as part of his research for a novel. Day wrote about his encounter with the two spritely sisters in a delightful article published in The Australian here.
For those planning a visit to Chania, a stay at the Doma with its many period features and old-school service is guaranteed to recall the days of travel glamour, even for those too young to have experienced those years anywhere other than in period dramas.
Visit our Crete pages for more about staying at the Doma Hotel.