Since 1970 Sunvil has been carefully crafting touring holidays to Cyprus, mainland Greece, Crete to suit the individual requirements of our clients. We have first-hand knowledge of our destinations and properties. We have driven the roads, explored off the beaten track, visited the museums and attractions, eaten in the restaurants, and got lost (all part of the fun). This knowledge is invaluable, and enables our experienced reservations teams to answer your questions and to design your multi-centre holiday.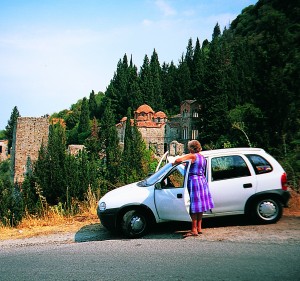 Below we have listed some of the questions to consider when thinking about a fly-drive holiday.
What do I want to see and do?
This is an obvious question but the world is your oyster! Fly-drive holidays arranged by Sunvil are extremely flexible and can easily be combined with a city break and/or with a relaxing beach resort.
We would recommend that a visit to a city – Athens or Thessalonika are the main two Greek cities – is arranged at the beginning of any holiday. The reasons for this are:
A city break is always busy. You will want to see and do as much as possible in a short period of time – museums, galleries, restaurants, sites of interest, excursions. For this reason we believe that it is better to explore a city upon arrival in your destination country thus enabling you to relax and re-energise over the latter stages of your holiday.
We'd recommend a pre-booked transfer on arrival to your city hotel. You would not therefore need to worry about driving in a strange city, or parking the rental car and incurring unnecessary charges whilst you are not using your vehicle. We will then deliver your hire car to your hotel on the morning of your departure from the city. At the end you can drop the car directly back to the airport.
Of course not everyone wishes to visit or stay in a city, in which case it is easy to avoid Athens and Thessalonika by taking advantage of our direct charter flights, which fly you directly to more rural areas of Greece. Fly-drive itineraries can start from Kalamata for the Peloponnese, Prevesa for Epirus in western Greece, and Volos for Pelion and central Greece. Fly-drive itineraries can also start from the airports of Volos. Of course you can fly to Athens or Thessalonika and drive directly from the airport to your first port of call.
If you would like to combine a touring holiday with a relaxing week on the beach we recommend that you complete your exploration first, arriving at your final destination solely to unwind and enjoy the weather, environment, hospitality and food. The following destinations perfectly complement a fly-drive holiday:
Peloponnese – with Tolon in the north or any of our resort villages in the south, such as Stoupa, Chrani or Kardamili
Western Greece (Epirus) – with Parga or Sivota, facing Corfu/Paxos, or the island of Lefkas (there is a bridge from the mainland)
Northern Greece – with Olymbiada in north western Halkidiki
Crete – with any of our featured resort villages in western Crete
Cyprus – all resorts and accommodation can be combined with a fly-drive depending on client taste, but perhaps a week in one of our rural villas or small Village Inns would be an idea.
 Are there any key attractions or sites of interest that I would particularly like to visit?
This is an important consideration when planning any multi-centre holiday. Museums, sites of interest and excursions may not open/operate daily. It is therefore important that the holiday itinerary is planned around the opening periods of these attractions. In Greece Mondays is the day to be wary of – major sites and museums often have curtailed opening hours, whilst lesser sites and museums may not open at all.
How long do I want to spend in a car (in a day)?
A seemingly obvious question but, an important one to ask when planning a vacation. For example, to drive from Athens to Thessalonika is possible in one day (a journey time of c.6 hours). However, a travelling time this long leaves little time for any deviation – comfort breaks, a lunch stop, museum visits, detours on less direct/scenic routes etc.
Every client is different but on average we would recommend a maximum travelling time of 3-4 hours in a day. Of course in Cyprus journey times are considerably less – you can drive from anywhere on the island to anywhere else in 2-3 hours max. if you use the motorway, so we would recommend going off the beaten track and using minor roads where possible (see last para.)
How many nights should I spend at each property?
We would recommend a minimum of 2 nights at each property on your fly-drive holiday. Of course, we can arrange an overnight stay but our reasoning for this recommendation is threefold.
If only 1 night is spent at a property there is little time to explore the attractions of the surrounding area or enjoy the facilities of the hotel or apartment booked.
We have found, from personal experience, that it is often only on arrival at your destination that you truly discover the diversity and wealth of attractions on offer. An overnight stay will not permit you to visit previously unplanned sites of interest and attractions.
This is a holiday. Do you want to unpack and pack again after only one night?
However if time is tight then we would recommend cutting down in areas where there is only one major reason to visit e.g. archaeological sites such as Olympia and Delphi (the small towns here are nothing special and really developed to cater for the tourist trade). Arriving in the afternoon you are on-site for an early(ish) start the next morning, which means you beat the queues and any coach parties visiting on a day trip. To visit the site and museum should take most people no more than 3-4 hours, which means you can leave after lunch and drive to your next destination at your leisure.
What type of car do I wish to book?
We have included this question in our round up to provide food for thought. For example:
It is important to consider the size of the boot on the car that you hire. Two large suitcases plus hand luggage will not fit in the boot of a typical Group A car (e.g. Kia Picanto, Hyundai Atos or similar) and therefore you will be required to utilise the rear seats. This is of course OK when driving from A to B but not if you wish to stop on route and park your hire car whilst you explore.
You also need to consider the landscape that you will be exploring. If the region is mountainous a 1000 cc engine may not be powerful enough to tackle the hilly terrain. Car hire groupings are generally based on engine size, so it is well worth paying the small amount extra to upgrade from a Group A to a B or (even better) C.
Also, you need to consider the vehicle you drive at home. If you are used to driving a small compact car will you be comfortable driving a larger vehicle and vice versa?
GPS versus a map
A small plea from us. When on holiday, abandon the GPS (except maybe to help you find your property at the end of the day) and explore off the beaten track. A GPS will take you to your destination on the most direct and quickest route yet, we have often found that the real gems of a region can be found on the minor roads – many of which run almost parallel to the main arteries. Don't miss truly seeing your destination because you are following the instructions of a computer. Revert to a trusty map and see where you end up, it could be the most rewarding day of your holiday.
However GPS does of course have benefits and, if you possess a smartphone or a tablet computer, we have found the service offered by Copilot to be pretty good. To save excessive roaming charges you should download the Greece maps from Copilot.co.uk before leaving the UK.
Rachel Jelley & Dudley Der Parthog