Torta caprese is a traditional Italian chocolate and almond cake, it is also sometimes made with walnuts. It is made without flour, so may be eaten by those following a gluten-free diet. A small amount of Strega or other liqueur is sometimes added.
It originates from the island of Capri, thought to be created for tourists in the 1920's. The exact details of how it was first created are unknown, but it is thought that some tourists asked for an almond cake and baker forgot to add flour to the cake mixture or replaced it with cocoa. However, the cake became popular in tea rooms at first, then later added to restaurant menus. It has been referred to as "uno dei pasticci più fortunati della storia" (one of history's most fortunate mistakes).
To download your recipe card, follow the instructions below:
– Click on the recipe card image below – this will take you to a new page with the recipe card on it.
– From here right click on your mouse and click the 'save as' button.
– Save the card wherever you choose and then open it up.
– Once you have opened your recipe card you print it using your chosen printer.
– All you have to do now is go shopping!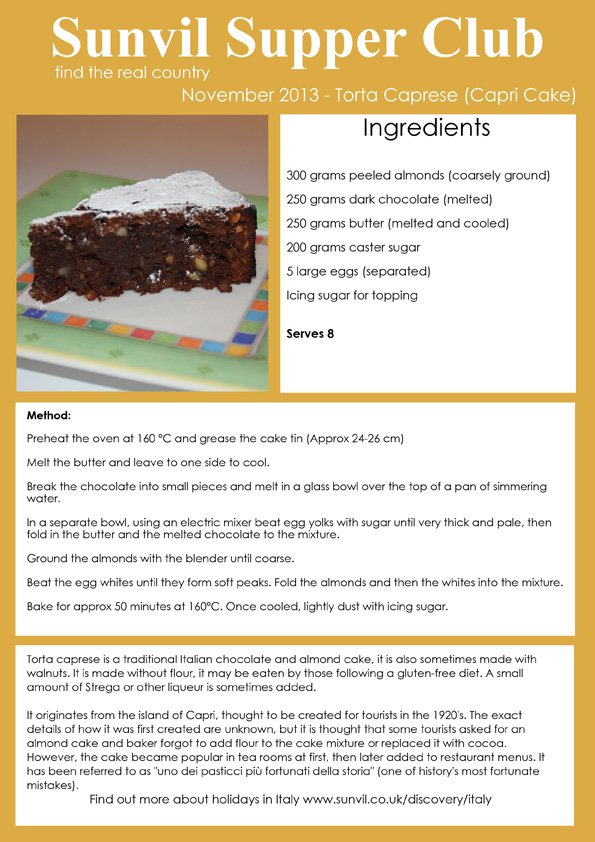 Alternatively, download the PDF version of November's Supper Club recipe card  by clicking here.
Are you a budding blogger? Or do you know anyone who is? Each month we get some bloggers to try out our recipes, and we're always on the lookout for more people to give us their feedback. If you are interested in taking part, or would like some more information please drop us a quick email, our address is info.supperclub@gmail.com.