The Alentejo is largely unknown to the foreign visitor but, those who have ventured into this diverse Portuguese region – south of Lisbon and north of the Algarve – have discovered a district that is home to some of the best and most varied Portuguese cuisine.
Inland from the Atlantic coastline, you will often find local game on the menu such as rabbit, pheasant and partridge. Arroz de perdiz is cooked in a style similar to paella, and has a rich flavour that would be perfectly accompanied by one of the region's high quality red wines.
To download your recipe card, follow the instructions below:
– Click on the recipe card image below – this will take you to a new page with the recipe card on it.
– From here right click on your mouse and click the 'save as' button.
– Save the card wherever you choose and then open it up.
– Once you have opened your recipe card you print it using your chosen printer.
– All you have to do now is go shopping!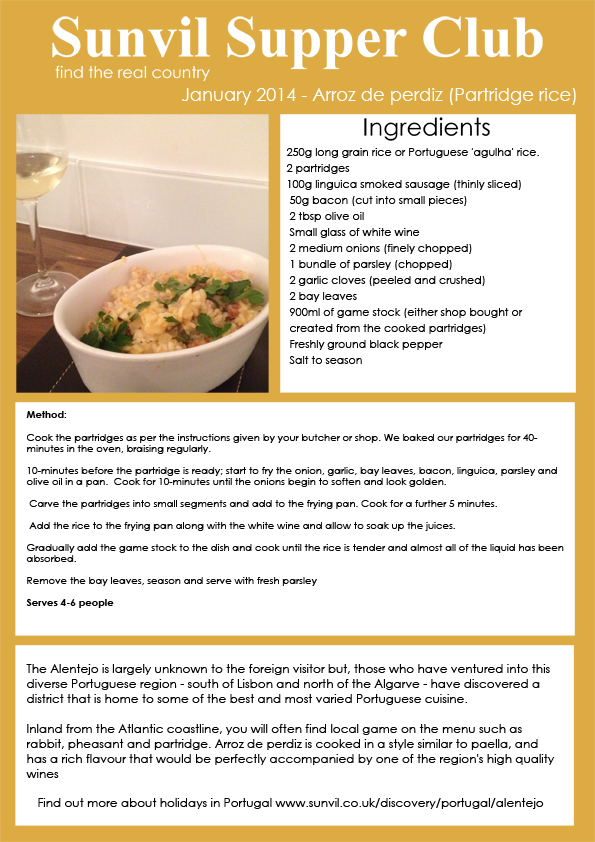 Alternatively, download the PDF version of January's Supper Club recipe card  by clicking here.
Are you a budding blogger? Or do you know anyone who is? Each month we get some bloggers to try out our recipes, and we're always on the lookout for more people to give us their feedback. If you are interested in taking part, or would like some more information please drop us a quick email, our address is info.supperclub@gmail.com.