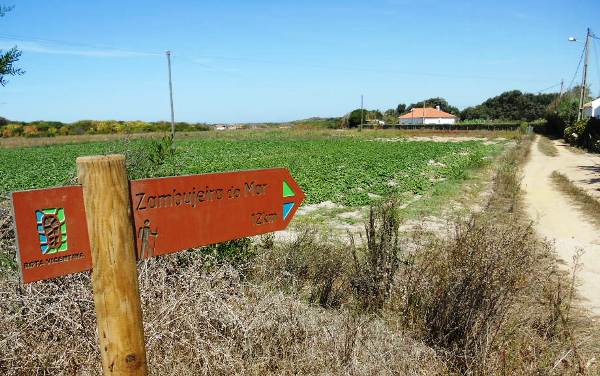 Walking holidays have become increasingly popular in recent years. The chance to experience a country at a gentle pace and to have the opportunity for a natural interaction with local people are just two reasons why so many people choose to spend a big chunk of their holiday time on their feet.
So where can you plan a holiday that allows you to enjoy a great walk surrounded by stunning scenery? Here are a few suggestions:
The isolated volcanic islands of the Azores are a walkers' paradise, with hundreds of miles of walking trails crossing each island. Larger islands such as Sao Miguel can be explored over several days while staying at the same accommodation, while small islands such as Flores offer an opportunity to get to know an island intimately by crossing them on foot (here's a post on our blog from last year about walking on Flores).
Alentejo 
The Rota Vicentina is a long distance walking trail that runs along the south-western coast of Portugal. With an inland and coastal path you can choose your scenery according to your taste, but both offer delightful backdrop to an adventure through rural Portugal. The coastal trail in particular passes through small towns where you can enjoy freshly-caught seafood at the end of your exercise each day.
Madeira
Madeira enjoys its reputation as a great walking destination due largely to an innovation that had nothing to do with walking. The levadas that criss-cross the island are water channels dug from the 16th century to provide much needed water to the drier lowland parts of the island. Nowadays the maintenance paths that run alongside these channels offer a pleasant and easy way to explore the delights of the island.
Faroe Islands
These North Atlantic islands might not offer the warmest of getaways, but you'll have to travel far to rival the natural beauty of the Faroes and they offer plenty of opportunities for great walking. The excellent transport infrastructure (many islands are linked by road tunnels) allows easy transfer between islands and walking trails take you to parts of the coast on islands such as Mykines, where you'll see hundreds of thousands of sea birds and not another human for miles around. Bring plenty of layers in preparation for the predictable unpredictability of the weather in the Faroes, (here's a post on our blog from last year about walking in the Faroes).
Greek islands 
It's hard to pick out a single Greek island as a walking destination, as every island offers something unique. Amorgos is probably one of the most special places to go for a walking break. This small narrow island in the Cyclades offers great hiking opportunities and all Sunvil guests on Amorgos receive a detailed booklet outlining some of the island's best trails.
Wherever you choose to go for a walking holiday, there's another great advantage to this type of break: by the time you've walked all day to reach your destination, you're guaranteed to have a good appetite and won't feel guilty whatever you eat!