Just imagine a much anticipated weekend break in any UK city when it never stopped raining. Picture the miserable faces, the hunched figures scuttling for shelter, the dark bleakness of the buildings, and that overwhelming sense of bitter disappointment.
Now imagine the opposite: a city at ease with the rain, its attractiveness merely dampened not diminished, its inhabitants carrying on quite as normal, strolling, chatting, shopping and eating. All it takes is an umbrella; indeed at times Via Massini resembles a surrealist's dream of massed umbrellas, all in stately parade, negotiating their decorous way between elegant shops and welcoming cafes. The Italian genius for urban living helps, too. Whether the Romans are to be thanked or the Renaissance plutocrats who demanded to be surrounded by elegance and splendour, it really doesn't matter. The result is that it's possible to spend a delightful winter's weekend in Verona even when it rains the entire time.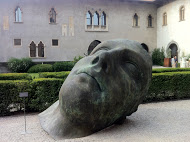 For instance the rain legitimises visits to churches and museums that in better weather you might be reluctant to enter. On a sunny day it's hard to leave the vivacity and hues of the narrow streets; after all, a simple stroll around Verona can quickly develop into sensory overload. Stepping anywhere indoors in sunlight seems like a guilt-ridden mistake – a betrayal of the balcony-lined streets, the hidden courtyards, the half-revealed frescos on so many buildings, the crumbling palazzos and diverse piazzas. So you might well hesitate before the Castelvecchio and miss its remarkable collection of Veronese art; approaching the Chiesa di Sant'Anastasia, you might prefer to walk by and then never stare, amazed, at the stunning decoration of its roof; or miss the Duomo itself, like a layer-cake of separate churches, from Roman temple to Gothic cathedral.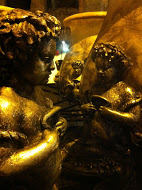 At 20E for a 72 hours visit, a Verona card entitles you to free entry to most places of interest. The price also includes free bus travel, so you can always get from A to B in the dry if the rain discourages you. Though the Old City is so small and compact that the street maps seem deliberately to exaggerate their size: you look at the map, calculate a 10 minute walk, and find yourself already at your destination a 100 paces away.
And – whatever the weather – the Italian passion for all things connected with food never alters. The rain has never been known to interfere with the Italian appetite. As long as it's home-grown, tastes home-cooked and meets the exacting standards of people who probably discuss each dinner in bed afterwards, it needs to be eaten.
It makes perfect sense to eat an ice-cream brioche (con or senza panne, with or without cream) in the middle of a January downpour, or (for the more adventurous among us timorous tourists) to dive into the local favourite, bollito misto Veronese di carne (mixed poached meats).  For this delicacy, a metal apparatus with a strong resemblance to an old-fashioned school dinner trolley is wheeled before you, and from its gently boiling interior will be extracted (according to your personal choice) a selection of cuts of meat, which might include pork foot, cow udder, calf's head, tongue, salami, and – of course – cavallo.
For the less courageous, north Italian cooking remains triumphant in terms of quality and simplicity: perfect pasta, that meltingly light pizza base, polenta dishes, seasonal vegetables, rounded off with Valpolicella and Soave.
Strangely, you can end up grateful that your weekend hasn't been spoiled by any inconvenient interruption of good weather. That's Verona in the wet.
Paul McKeever