Kleftiko is one of the most popular traditional Greek/Cypriot dishes. It is either lamb or goat wrapped in foil and baked in special clay ovens. As with most Greek meat recipes, it is the slow cooking that makes all the difference.
Kleftiko is the Greek word for 'stolen' and the recipe is sometimes referred to as 'bandit's lamb'.
The origin of this dish goes back to the Cypriot freedom fighters of the 19th.Century that lived in the mountains. They had to prepare their stolen meat, the Kleftiko, so that it was neither seen nor smelt. It was baked in special earthenware pottery, which they had buried underground. The hole was then sealed to prevent steam escaping and giving the Kleftiko away.
The great thing about lamb Kleftiko is that it is so easy to prepare but looks very impressive on the plate. The lamb should be melt-in the-mouth and the vegetables infuse with all the meaty juices.
To download your recipe card, follow the instructions below:
– Click on the recipe card image below – this will take you to a new page with the recipe card on it.
– From here right click on your mouse and click the 'save as' button.
– Save the card wherever you choose and then open it up.
– Once you have opened your recipe card you print it using your chosen printer.
– All you have to do now is go shopping!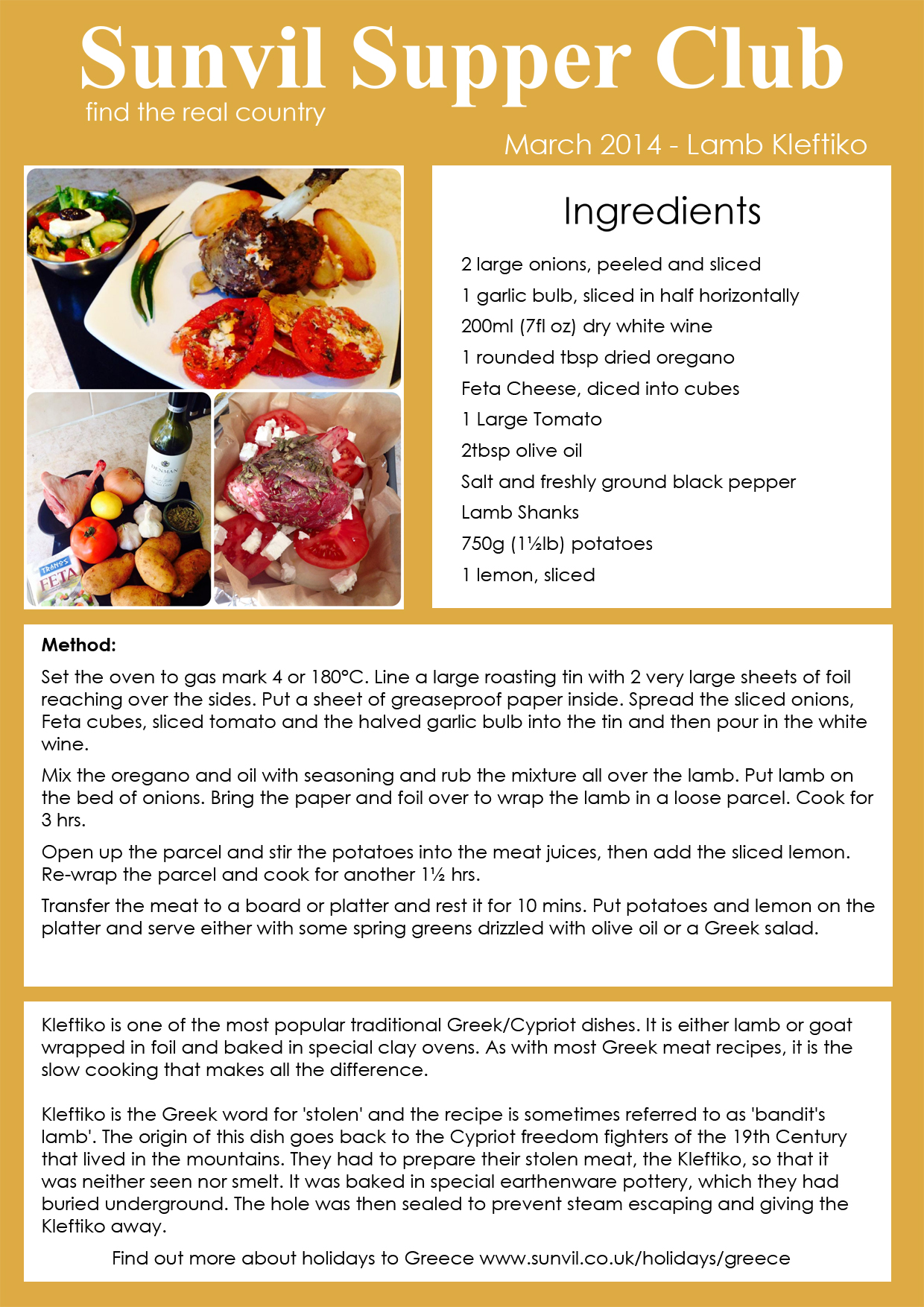 Alternatively, download the PDF version of March's Supper Club recipe card  by clicking here.
Are you a budding blogger? Or do you know anyone who is? Each month we get some bloggers to try out our recipes, and we're always on the lookout for more people to give us their feedback. If you are interested in taking part, or would like some more information please drop us a quick email, our address is info.supperclub@gmail.com.