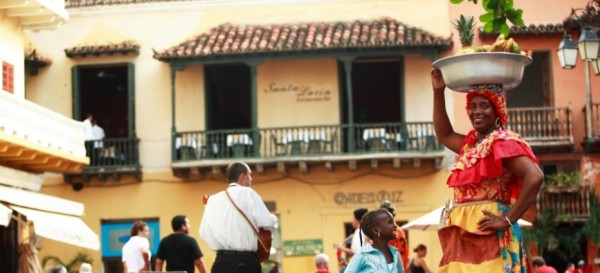 Having largely been shunned for many years as a holiday destination, Colombia is steadily becoming recognised as one of the most exciting countries to explore in Latin America. Not only is there an enormous amount to experience and witness, but those who have visited the country rave almost without fail about the warmth and hospitality of the Colombian people.
As Colombia is still a little-known destination to many travellers, here are a few facts that might help spark your curiosity about this colourful South American nation.
1. Colombia has the highest coastal mountains in the world. Pico Cristobal Colon has a height of 5700 metres yet is less than 30 miles from the coast of the Caribbean Sea.
2. Colombia is home to more varieties of orchid than any other country. Not only does it have over 3,500 orchid varieties, but it also boasts 55,000 types of plant, making it one of the most bio-diverse places on the planet.
3. Colombia has more than half a million coffee farms. Most are small family-owned businesses, centred around the area north of the capital Bogota known as the Coffee Axis Zone. Locals will tell you with no uncertainty that theirs is the finest coffee in the world. The area's three main cities, Armenia, Manizales and Pereira are popular places from which visitors can explore the region.
4. The Colombian hills and valleys are alive with the sound of nearly 2,000 species of bird. Hummingbirds, anteaters and parakeets abound, with an astounding concentration of bright colours in the bird life. Whether it's in the coffee growing area, along the western Pacific region or in the Andes, it's always worth keeping your eyes peeled for a sudden flash of colour.
5. Colombia is home to the most complete fossilised remains of a kronosaurus, a 110 million-year-old relative of the crocodile. At 7 metres in length it's about the size of a bus, and has been kept in the place where it was found by local farmers in 1977, near the town of Villa de Leyva. The surrounding area is a fossil-hunter's paradise.
6. Colombia's Pacific coast offers some of the world's best whale watching opportunities. Humpbacks migrating north away from the Antarctic winter. The best time to see whales is between July and November.
7. Cartagena, Colombia's most photogenic city and hugely popular with visitors, was once ransacked by Britain's very own Sir Francis Drake. It was also a major slave trading port and as with Salvador in Brazil, has maintained a strong African heritage as a result. Today Cartagena is a must-see element of any Colombian itinerary, with colourful streets, pastel-coloured doors with elaborate knockers and a vibrant, warm mix of cultures that is reflected in the city's music, food and architecture.
For more information about planning a tailor-made holiday in Colombia visit the Colombia section of our website.