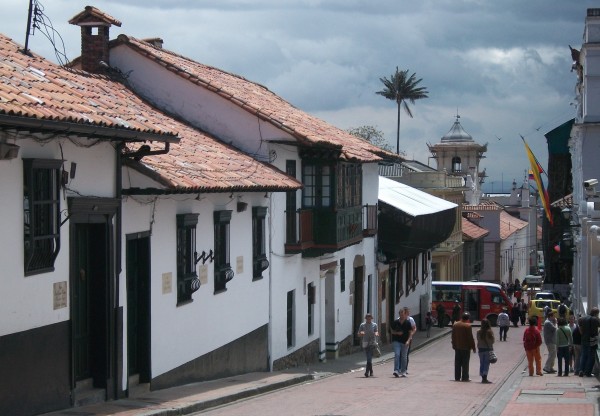 When I talk to fellow travel writers about their most memorable recent travels, one place that keeps cropping up is Colombia. After years of suffering a less than rosy reputation Colombia is firmly back on the tourist map and it seems as though it has one thing that people won't stop raving about: the warmth and hospitality of its people. Now I'm always a little wary of generalising about an entire country and making a sweeping statement along the lines of 'country x is the friendliest (or unfriendliest!) in the world', but it is striking how consistently people who have been to Colombia do highlight their interactions with the local people as one of their highlights.
The Colombian national airline Avianca has recently started direct flights to London Heathrow, meaning that getting to Bogota is now simply a matter of boarding a night flight in London and waking up in the early hours in the Colombian capital. And while visitors may have plans to explore the coffee region, the historic city of Cartagena or go whale watching off the Pacific coast, it's also worth devoting a few days to experience the attractions of Bogota.
So what can you expect to see and do in the Colombian capital? Here are a few of the city's highlights.
The Gold Museum
Colombia's (and possibly South America's) most famous museum, the Museo del Oro houses over 55,000 golden exhibits from pre-Hispanic Colombia. It's spread over three floors and the descriptions are in English and Spanish, telling the story of how the precious metal was used in rituals and offerings over hundreds of years. Entrance is pretty cheap and if you time your visit well you can take a free one-hour highlights tour which focusses on a specific part of the museum.
La Candelaria
This central historic district of Bogota is a favourite with visitors and it's here you'll find the grand houses built for the wealthy colonial-era Spanish officials and traders. Photographers will be enthralled by the ornate iron windows, thick wooden doors, elaborate balconies and courtyards, while the street entertainers and food stalls keep the district lively throughout the day. Try the ajiaco, a local favourite soup made with shredded chicken, potatoes, and sweetcorn.
Monserrate
This is a mountain near the city centre, with sweeping views of the whole of Bogota and beyond. There's a church at the top, dedicated to El Señor Caído (The Fallen Lord) and the way up is by funicular railway, cable car or a energy-busting hike. You'd think it would be a romantic place to go and observe a Colombian sunset, but according to local legend if a couple visit the top of Monserrate then their relationship is doomed to fail.
Andrés Carne de Rés restaurant
A short trip out of town, this is a cross between a restaurant, nightclub and circus. While a steakhouse by name, you'll be dragged out on stage to rumba (you may go of your own accord after a few drinks) and the characters who work here will entertain you throughout the whole experience. It's a Colombian institution and for many visitors a highlight of their visit to Bogota.
Image: By Pedro Felipe (Own work) [CC-BY-SA-3.0 or GFDL], via Wikimedia Commons