This is Peru's most famous dish. The dish is typically made from fresh raw fish marinated in lime juice and spiced with Aji Amarillo or chilli peppers.
2,000 years ago, ancient Mochica culture had a dish made with fresh fish marinated with fermented banana passion fruit; during the Inca era, the fish was marinated with 'chicha' (corn beer).
Later the Spaniards brought 2 Mediterranean ingredients: lemon & onions.
The Japanese influence is also seen in the fact that fish is marinated for very little time unlike the old days.
To download your recipe card, follow the instructions below:
– Click on the recipe card image below – this will take you to a new page with the recipe card on it.
– From here right click on your mouse and click the 'save as' button.
– Save the card wherever you choose and then open it up.
– Once you have opened your recipe card you print it using your chosen printer.
– All you have to do now is go shopping!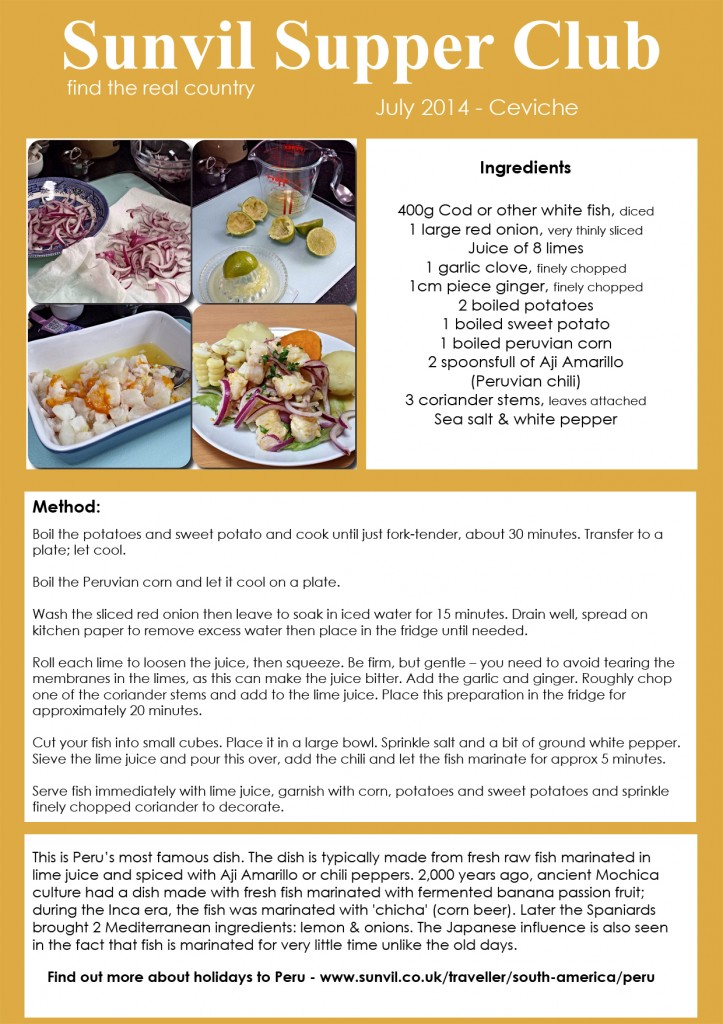 Alternatively, download the PDF version of July's Supper Club recipe card  by clicking here.
Blog & Images by
Elena Larkin
Are you a budding blogger? Or do you know anyone who is? Each month we get some bloggers to try out our recipes, and we're always on the lookout for more people to give us their feedback. If you are interested in taking part, or would like some more information please drop us a quick email, our address is  info.supperclub@gmail.com