'Pantanal' comes from the Portuguese word 'pântano', meaning wetland, bog, swamp, or marsh, but in fact the Pantanal is a mixture of different ecosystems. Spanning 210,000 square kilometres (81,000 square miles; almost the size of Britain), the Pantanal is the largest tropical wetland in the world – ten times the size of the Everglades in Florida. Over 65% of this vast wetland lies in Brazil, the remainder straddles the borders of Bolivia and Paraguay. Parts of the Pantanal are protected as a national park or a reserve and have been declared UNESCO World Heritage in 2000. Most of the region is privately owned.
The landscape consists of wetlands and lakes, rivers, deltas, ponds, salt pans, and seasonally flooded grasslands and forests. During the wet season from November to April, the rain flows into the Pantanal from the surrounding highlands, feeding the Paraguay and Cuiaba rivers and its tributaries. Water levels rise between two and five metres! In March the waters start to recede and the lagoons and marshes start to dry out. Because the area is only 100-200m above sea level and almost completely flat, the draining process is very slow. The average temperature is 25°C, but temperatures up to 40°C in the dry season are common. Travelling in the wet season gives you the opportunity to explore waterways with incredible views, while visiting in the dry season will give you the best chance to see wildlife. Approximately 80% of the Pantanal floodplains are submerged during the rainy season.
Seasonal flooding is the main reason the Pantanal is so rich in flora and fauna. It is the best place in Brazil, and one of the best in South America, to see wildlife – much better than in the (Brazilian) Amazon, where animals hide in dense vegetation. Numbers vary but fauna includes 650 species of bird, 400 species of fish, 80 species of mammal, 50 species of reptile and 41 species of amphibians. Numbers of flora vary greatly but there are at least 1,700 species of plants – 3,500 according to some sources.
Iconic Pantanal species include the black, red and white Jabiru stork, heron, ibis, hyacinth macaw (the world's largest parrot), giant otter, capybara (the largest rodent on earth), anaconda, green iguana, tapir, giant anteater, caiman and black-tailed marmoset – the smallest monkey of the region. The Pantanal is also home to one of the largest and healthiest jaguar populations on earth. It can be challenging to spot one, but there are a few lodges that offer a jaguar tracking experience. Porto Jofre located on the Cuiaba river is one of the best places to see wild jaguar.
The cities of Cuiaba in the north, and Campo Grande in the south, are the main gateways to the Pantanal. Accommodation is in lodges with all meals and daily excursions included. The average length of stay is 3 or 4 nights. Excursions are by boat, on foot, by safari truck and on horseback!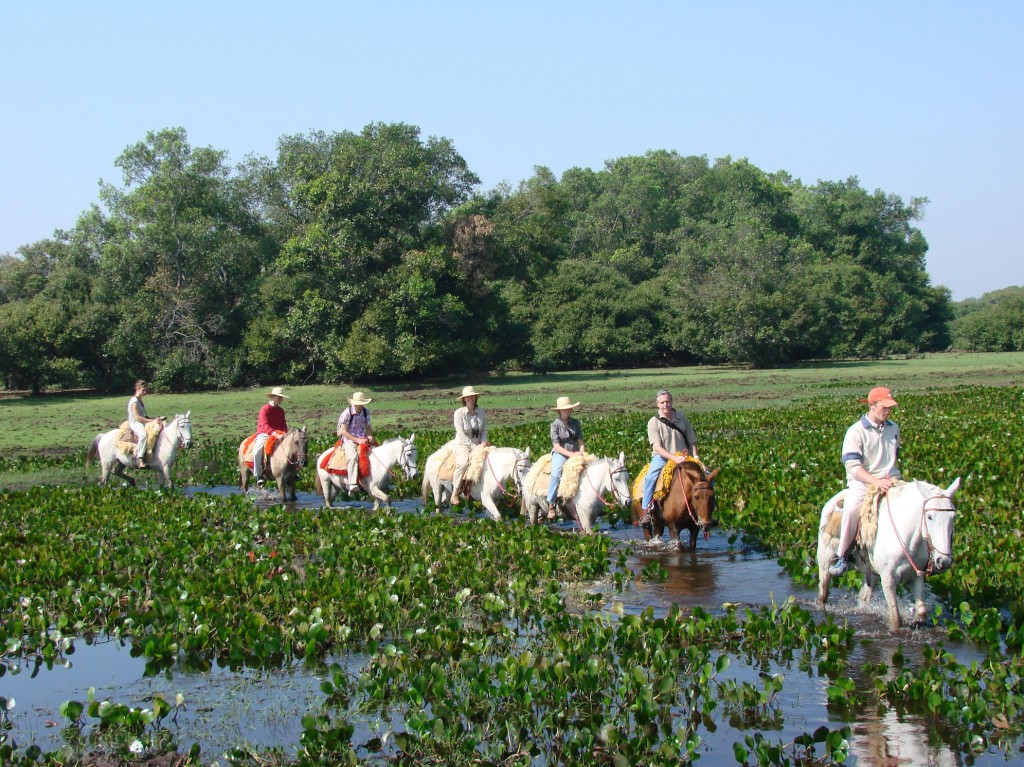 Following my recent visit – I would highly recommend a visit to this unique area.
Anoek Petit