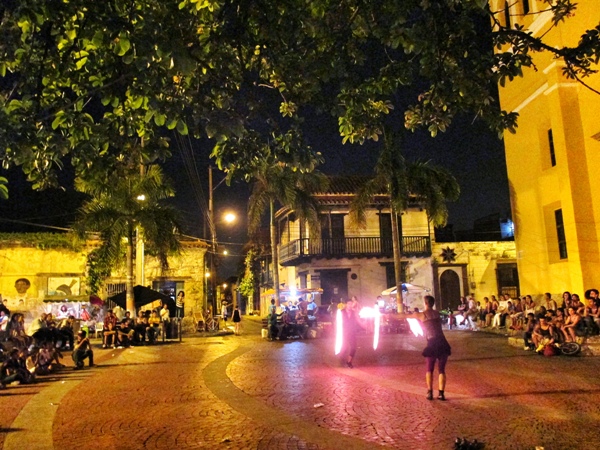 When I first arrived in Cartagena I was well aware of the UNESCO-level beauty that I'd find in its maze of narrow streets and protective high walls. This coastal Colombian city once stood as the Spaniards' main gateway into and out of South America – which meant a succession of pirate attacks on Conquistador boats filled with gold and jewels. As a result, Cartagena was fortified to the nth degree with heavy stone walls and ramparts built throughout the city in an effort to protect it.
Nowadays, the old wall that stretches for 4 km along the waterfront hides the beautifully decorated balconies and doorways of tourist-friendly boutique hotels and little cafes with wrought-iron tables and chairs set out in perfect tiny plazas. With street musicians playing for centavos and entertainers thronging their way through the happy crowds, it perfectly fits the romantic ideals of the historical Caribbean lifestyle.
But I was in Cartagena to study Spanish, so I wanted to stay near my Spanish school, located a bit further out in the neighbourhood of Getsemaní. While still in the fortified city, my small adopted neighbourhood was outside the old town, and as I wandered around the narrow streets on humid Cartagena nights I passed locals rather than tourists; people less intent on gazing admiringly at crumbling walls and peeling pastel paint, and concentrating more on living their lives among it.
The doorways of the picture-perfect houses were left ajar, to create a through breeze and to allow for socialising with friends going by. Inside I would spy fleeting glimpses of tiny babies tottering, old men snoring and young girls fixing each other's hair.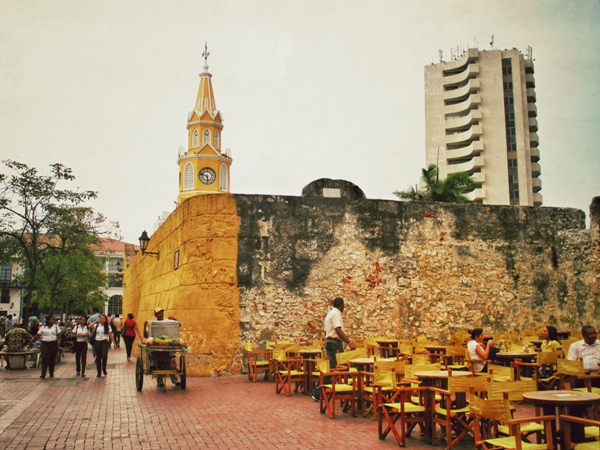 Invariably I'd find myself reaching one plaza or another. Every night a different activity reigned supreme; an outdoor zumba class, a movie projected onto the side of a church, countless couples dancing salsa, an acrobatics display. Around the edges of the plaza groups of men would perch on stone steps, or sit on chairs they'd carried out from their houses. Gangs of teenagers would cluster around carts selling food – spitting meat skewered on sticks, messes of pepper, onion, cheese and chips slapped onto hot plates and turned copiously with metal spatulas. The fresh fruit smoothie makers vied for attention with the corner-side tiendas selling chilled cans of beer.
Every plaza seemed a microcosm of South American street life; a social space for everyone to gather and an impromptu party. There were usually a number of locals eager to strike up conversation with the foreign woman watching the night's activities, meaning I was launched into unexpected Spanish practice mere streets away from the classroom where I'd spent my mornings studying; conversations which I hadn't practised for but for which I was still nervously happy to engage in.
I know that a lot of tourists look back fondly on Cartagena as a colourful, deteriorating place, filled with history and romantic Caribbean influences. Because I accidentally chanced upon the plaza lifestyle, though, I also get to remember the city in another form: a Spanish-speaking, community-filled, modern twist on the way things used to be.
Flora Baker is a freelance travel writer and South America addict. She blogs about her experiences at FloraTheExplorer.com and tweets at @florabaker.