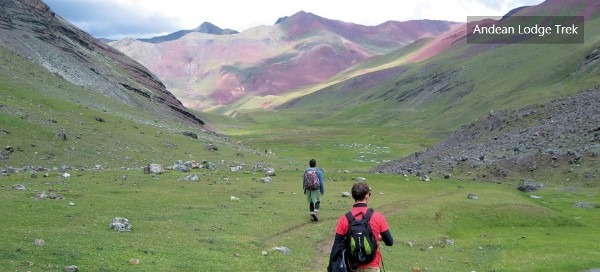 For many visitors to Peru the main purpose of their trip is to hike the Inca Trail to the ruins of Machu Picchu. While this is without doubt one of the world's great treks, it's certainly not the only option for a memorable long-distance adventure in the Peruvian Andes. A number of trails offer multi-day adventures among the towering scenery and splendid solitude of the Andean mountains; there are even options available for those who don't like roughing it.  Here a couple of options for alternative treks that finish
Lares Treks
There are two itineraries for this comfortable trek: a 4 and a 6-day hike. Both are designed to show visitors the best of the mountain scenery while minimising on the discomfort experienced along the way. The overnight lodges are modern, eco-friendly constructions where many of the staff are local people who are only too willing to share stories about their customs and culture while making sure their guests are well looked after.
The lodges are bright and spacious, with large dining areas and bars. One of the lodges even has a pool table.
Guides are English speakers and for groups larger than 7 people there's also an assistant guide. While the hiking days can be strenuous, there is a 'lazy option' on most days, with an alternative shorter trek and van transfer to the next lodge. Both the 4 and 6-day hikes finish at Machu Picchu, arriving at Aguas Calientes (the town below the ruins) on the penultimate afternoon and then visiting the ruins at sunrise on the next day.
Camino del Apu Ausangate
The Route of Apu Ausangate is a five-day trek that passes near Apu Ausangate, which for the Incas was a particularly sacred mountain. The experience offers a highly rewarding adventure for those looking to immerse themselves in the Andean culture. One of the highlights of the walk is the interaction with the llama and alpaca herders, as well as the people from the villages passed along the way.
Accommodation for this trek is certainly not at a top end of the luxury scale. But what the lodges (called Tambos, which is the Inca word for resting place) lack in modern-day amenities such as electricity, they more than make up for with spectacular mountain scenery, some of the darkest night skies seen anywhere in the world and a special evening atmosphere created by lanterns and candles.
These Tambos have been built in relatively recent times, using eco-friendly materials and employing modern recycling methods to process the generated waste. There's a dining room in each Tambo, used to serve a 3-course meal in the evenings and a big breakfast before the next day on the trail. There's also a bar which is always well stocked with Pisco Sours (it is Peru after all), as well as beers and a few wines.
Even on the lighter treks there's still a fair bit of walking involved and participants should have some hiking experience and a good level of fitness. Altitude can be an issue with some of the trails reaching highest points of over 5000 metres above sea level, so it's strongly recommended to allow at least 2 days in Cusco to acclimatise before starting a trek. The best time to go is between April and November and as with all mountain treks, any weather is possible so clothing and protection needs to be packed accordingly.
See our Peruvian trek itineraries for more information.