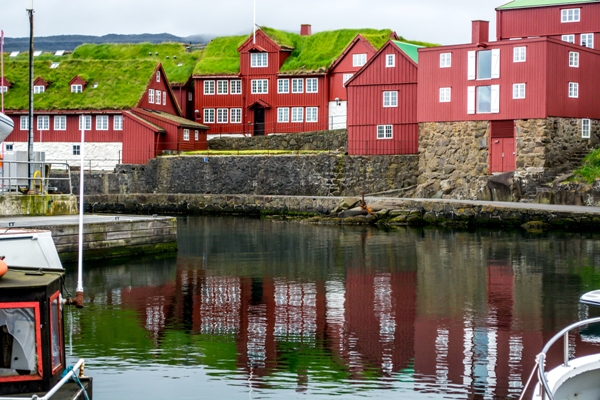 Torshavn is not your typical capital city. Home to barely 20,000 people and with a modest selection of restaurants and bars, for most of the year it has the feel of a small provincial town (if you arrive during the annual St Olaf's Day wild celebrations your experience will certainly differ). But despite its tranquil vibe there's plenty to explore and for those spending a few days in the Faroe Islands it's certainly worth dedicating at least a half-day for a visit into town.
The oldest part of Torshavn is Tinganes, the site of the original parliament in Viking times and now a quaint collection of wooden houses with characteristic grass roofs, tightly-packed on a small peninsula jutting out into the harbour. You can take a stroll around the steep narrow lanes and see the homes looking pretty much as they have done for hundreds of years. Almost every house has a hjallur, a timber outhouse which is used for drying fish and meat, sometimes for several months, creating what can best be described as an acquired taste.
Near the waterfront you can walk right up to the Prime Minister's house. There's no hint of a security presence (it's quite normal to see him walking around town doing his shopping) and there's nothing stopping you from ringing on his doorbell – not that this is something you should be doing of course. The parliament building is also here and accommodates the 32 elected members of the Faroese government. While the Faroe Islands fall under Danish control, they enjoy a high degree of autonomy.
Before long you'll find yourself at the 18th-century cathedral. Pleasingly simple inside, a number of ships hang from the wooden ceiling, a reinforcement of the unbreakable bond between the Faroe Islands and ocean which surrounds them.
The liveliest part of Torshavn on a typical day is down by the harbour. It's here that local people can come down to buy fresh fish (and occasionally whale meat). Wander along and soon enough the fish sellers will call out to you – visitors are still something of a rarity on the Faroe Islands.
On the other side of town is the Skansin fort, built in the 16th century to protect the town from privateers and smugglers and now one of the best places to enjoy a panoramic view across the harbour. There are two large guns below the fort – these were left by the British during the Second World War.
While Torshavn itself is not big enough to stake a claim as a city break destination in its own right, it certainly has enough of interest to make a pleasant detour for any visitor who has come to the Faroe Islands to enjoy its beautiful natural surroundings.