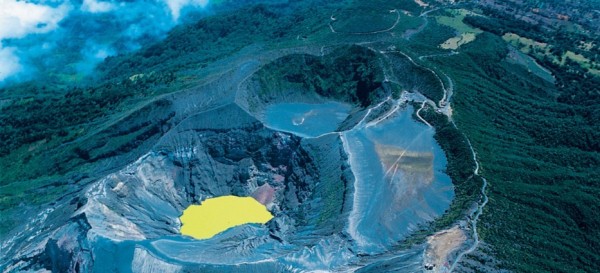 While the Costa Rican capital San Jose may be one of Central America's more cosmopolitan cities, it's typically not a place where visitors tend to stick around. That's not to say it's without its charms, but with so many exciting natural attractions within a country that's roughly the size of Belgium, it's hardly surprising that most people use the biggest city primarily as an entry and exit point.
One of the highlights of a trip to Costa Rica is a visit to one of its many volcanoes and with three active ones with a 2-hour drive of the San Jose, taking a volcano-themed day trip is a popular option. So what can you expect if you visit one of Costa Rica's easily accessible volcanoes?
Poás Volcano
A hike up Poás is one of the most popular day trips from the capital. The main crater of this active volcano is one of the largest in the world, being almost a mile in diameter and, as you'd expect from a proper volcano, it belches out sulphurous fumes, hot jets of steam and smoke and the occasional erupting geyser. Poás hasn't seen a major eruption for over 100 years but it continues to gently bubble away, offering plenty for visitors to experience.
There's a maze of trails winding their way around Poás' slopes and down to lake in the forested lower slopes, where the fertile soil supports a myriad of colourful flowers which in turn attract even more colourful hummingbirds.
Irazú Volcano
Irazú Volcano National Park is only around 40 miles from San Jose and at over 11,000 feet Irazú is the tallest volcano in Costa Rica. Its most recent eruption was in 1996 and for now it is quiet. On the one hand the views from Irazú are particularly special, with both the Pacific Ocean and Caribbean Sea visible on a clear day. On the other hand, there's plenty to see on the mountain itself. There are two dramatic and colourful craters, one an emerald green and one a crimson red. And while the upper slopes near the craters are unsurprisingly devoid of life, the fertile soil further down Irazú is rich with coyotes, armadillos, owls, hummingbirds and woodpeckers. The slopes have many hiking trails, but perhaps the most exciting way to explore Irazú is on horseback.
Turrialba
A little further afield is Turriabla Volcano in the Turrialba Volcano National Park. While it's not quite as tall as Irazú, with a summit at 10,919 feet there's still a magnificent view of the Atlantic coast and the Barva, Poás and Irazú volcanoes.
Turrialba hasn't had a major eruptions for almost 150 years, but you'll still find fumaroles spitting out jets of smelly gas near the peak. It's often referred to as Irazú's twin, due to the similarity of their lunar landscapes. Turrialba offers many opportunities for hiking and horse-riding and as the least visited of the three volcanoes it is the most rewarding for those who want to enjoy their outdoor attractions in solitude.