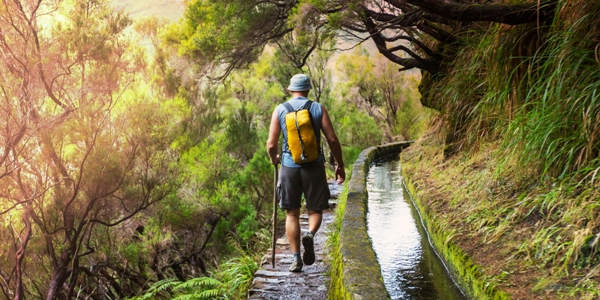 For many years Madeira has been considered one of Europe's most rewarding destinations for a walking holiday. The island is small enough to explore thoroughly in a week, yet diverse to the extent that every walk within that week will offer something different. Here are just a few suggestions for great walks on Madeira.
The most distinctive feature of Madeira is its network of levadas, the irrigation channels which cut across the island bringing water from the rain-rich north of the island to the agricultural plains in the south. These narrow canals, or more precisely the paths which run alongside them, are perfect for negotiating Madeira's wild interior. One of the easiest walks on which to enjoy the levada trails is in Vale do Paraíso, or Paradise Valley. The walk follows the Serra do Faial levada with barely an incline and for around 3.5 miles you can enjoy views of Camacha village and the cultivated terraces which are watered by the levada.
Another popular levada trail starts at Ribeiro Frio (Cold River). This 7-mile trail offers many of the highlights of Madeira's levadas in one hit. You'll pass through tunnels (bring a torch) and waterfalls; trout can be spotted in the levadas along the way. It's a fairly strenuous hike with the path occasionally running along a ridge with steep slopes; anyone with severe vertigo is advised to consider one of the alternative trails.
Rabaçal is the starting point for a 6-mile circular walk that takes in some of Madeira's most spectacular mountain scenery, with clear lakes and tumbling waterfalls providing ample reward for a little effort. The trail follows a levada for part of the route, before leaving the water course to climb up to the lake. The terrain is almost jungle-like on the narrow paths and with the constant sound of the birds it's easy to forget that you're on a small island in the Atlantic Ocean.
The Caminho do Pináculo e Folhadal is an 8-mile trail which offers splendid views across the island (weather permitting, as always). The route starts just off Route 110 near Encumeada, and again it follows the levadas before heading off on a stone path. It's a steady climb, with tunnels and waterfalls again providing distractions from the exertion of the walk, before the views open up at 'the pinnacle'. From the top of the trail there are far-reaching views across the Central Mountains and the Ribeira Brava valley.
Walking in Madeira offers many rewards, with varied views and trails which will suit all levels of fitness and enthusiasm. Weather can be highly unpredictable on the islands, so waterproofs are essential. At the same time, the westerly winds which bring the rain also ensure that the island stays mild throughout the year, making Madeira an appealing destination for a walking holiday in any season.