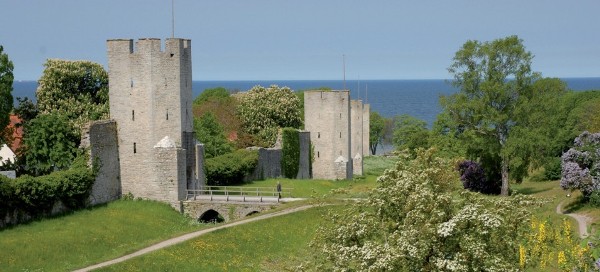 The island of Gotland lies in the Baltic Sea and offers a relatively untouched island escape with plenty of natural and historic attractions.
Sweden's largest island and thought by some to be the original home of the Goths, Gotland is fairly central in the Baltic Sea, being around 55 miles from the Swedish coast and a little over 80 miles from the coast of Latvia. In fact given the turbulent history of the Baltic region, it's surprising that it has remained in Swedish hands since 1645.
Almost half of the population of Gotland lives in the main town of Visby, and it's here that most of the historical sites are found. Visby has a well-preserved 13th-century town wall, evidence that while the last 370 years have been peaceful, the medieval period was far more turbulent. The past is celebrated during the annual Medieval Week, which takes place in the summer and sees Visby transformed into a 14th-century city. There's street music, medieval food, battle re-enactments and elaborate processions. Everyone (including visitors) is encouraged to dress in medieval costume.
Outside of Medieval Week the best way to explore Visby is by wandering its narrow cobbled lanes and taking a walk along the medieval wall for a bird's eye view over the rooftops. Beyond the town's medieval heritage, it also boasts an attractive old quarter of 17th and 18th-century wooden houses, and the Gotland Museum in Visby is a good place to learn about the city's colourful past.
Gotland has, over the years, become a popular holiday destination for Swedes, and a number of attractions have sprung up as a result. There's the Kneippbyn Amusement Park, which is perfect for visitors with children, especially if they are fans of Pippi Longstocking. Pippi's house is the star of the show, but there are also water slides and roller-coasters to keep older children (and parents) amused too.
Further south of Visby is the relatively new Tofta Viking Museum. A 9th-century Viking village has been recreated and visitors (read children) can bake old-fashioned bread, make Viking jewellery, throw axes and shoot bows and arrows.
Nature lovers will enjoy Gotland, with around 80 pairs of eagles (golden and white-tailed) known to breed here. The island is also home to many migrating sea birds, who make their temporary homes on the rocky coastline.
For a complete escape from the world, the island of Fårö is a short 7-minute hop by ferry from Gotland and offers a bleak (or beautiful, depending on your taste) landscape with dramatic sea stacks and deserted sandy beaches. It is perhaps no surprise that Fårö was the home of Ingmar Bergman, that famous Swedish director of gloomy, often oppressive films. No doubt he found both inspiration and solitude in his island retreat. It's a popular place to come for lonely walks and bird-watching.