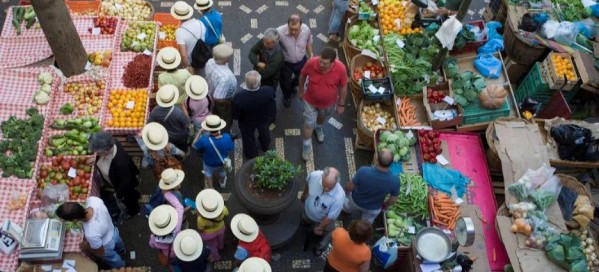 Wherever we travel, one of the best places to get a glimpse of local life is in a market. With a daily rhythm of buying and selling, shouting and cajoling, along with the colourful produce on sale and the outfits worn by the traders and shoppers, markets offer a raw and instantly accessible exposure to life in the destination, often a world away from the tourist businesses. Madeira is no exception, and as an isolated Atlantic island, there is a particularly strong emphasis on home-grown produce which is reflected in the many markets across the island.
Most famous of all is Funchal's colourful Mercado dos Lavradores (Farmers' Market), in the heart of the old town and housed in a vast art deco-inspired hall with hand-painted tiles. The market is always busy, but particularly so on Friday mornings, when the alleyways of the two-level hall are alive with the noise and smell of a typical market, with fruit, vegetables, fish, flowers and wickerwork on sale. It is a great place to see the rich diversity of Madeiran produce, and to enjoy the colourful costumes of the islanders.
It's wise to be forewarned of the highly skilled market traders, who are well versed in getting visitors to part with their cash. The standard ploy is to offer a sample of local fruit – the fruit will look and taste delicious, so it's no surprise if you find yourself walking away with a bag of assorted produce a moment later. Be warned; the prices are notoriously high, and the same fresh fruit can be bought for less than half the price elsewhere in Funchal.
In addition to the regular activities at the Mercado dos Lavradores, there are various fairs which take place throughout the year. If you're lucky you may catch a gastronomy fair, where local dishes are cooked up in the open; a crafts fair, with local handicrafts on display; or antiques and book fairs, attracting enthusiasts from across the island. Perhaps the most eagerly anticipated event is Noite do Mercado, or Market Night. On the 23rd of December every year, the stalls stay open all night and crowds gather to eat, drink and dance in celebration of the upcoming Christmas feast.
If you manage to experience the market and keep your wallet intact, you can reward yourself by joining the locals at one of the many cafes in the surrounding streets. It's a very popular area for people to sit and watch the bustle of city life, while enjoying a richly deserved coffee and a cake.