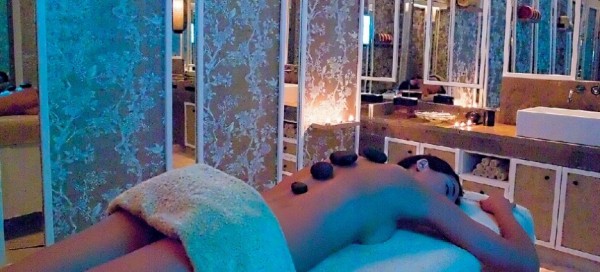 A holiday to Portugal can involve a lot of energy-busting activity, with long-distance walks and bike trails helping to build up visitors' appetites – even a day of sightseeing up and down the steep hills of Lisbon will burn off enough calories for the occasional custard tart. But Portugal also offers far more relaxing options for those whose idea of a perfect break involves massages, beauty treatments and generally getting pampered while soaking up the southern European sunshine.
In recent years Portugal has become a popular destination for spa holidays, and a growing number of hotels now offer treatment facilities for guests, allowing them to combine local sightseeing with a bit of valuable self care. Here are 5 options for spa breaks across Portugal which can be combined with more active elements of a holiday, or for those serious spa enthusiasts, can be combined with each other to create a comprehensive spa break.
This hotel in an Edwardian palace may only date back to 1910, but the origins of the spa go all the way back to Roman times, when people would come to the resort of Vidago to drink and bathe in the water. The water is said to aid digestive problems, due to its levels of sodium bicarbonate and radioactive isotopes. Today the spa at the hotel is an ultra-modern complex of clean white marble, and houses a sauna, a hammam, several treatment rooms (including 2 for couples), and its own doctor. There's an exhaustive treatment menu, which includes aromatic massages, exfoliating showers and detox programmes. Visitors can also enjoy the indoor pool and for the brave, there's even an ice fountain.
A luxury hotel on the south bank of the River Duoro in Porto, the Yeatman offers top-end spa facilities with a local twist: treatments are based on natural ingredients taken from the surrounding vineyards, chosen for their anti-oxidant properties. A specially created detox programme includes a body scrub from crushed cabernet grapes and a barrel bath. If that sounds like hard work, visitors can also enjoy the Roman bath and the hammam, or laze away the afternoon in the panoramic infinity pool.
This 5-star hotel in Lisbon's Bairro da Lapa quarter is in a 19th-century private residence. While the hotel makes the most of its Victorian-era heritage, the spa is unashamedly modern. There's a Turkish steam bath, an indoor pool and a sauna, while treatments on offer include a jet lag massage (curing it rather than causing it, of course), shiatsu massages  and stone therapy, plus light-touch lymphatic drainage massages.
Built in one of Portugal's best-known monasteries, this luxury hotel in Evora has its own spa with a menu of treatments which take advantage of the city's Roman heritage. There are hot and cold stone massages, and acupuncture options, as well as Chinese bamboo therapy and Japanese 'Sotai Ho' rehab programmes. There's also an indoor pool where you can have a swim while enjoying a view of the gardens.
Set on an upmarket, family-run country estate, this boutique hotel with only 10 rooms has its own spa. The real treat here is the setting, far away from the main road and the outside world. Treatments on offer include Hawaiian, bamboo and couples' massages, plus a choice of wine therapy massages, which promote skin cleansing using the fruits of the vine. The hotel has an intimate infinity pool which overlooks the vineyards.