This recipe is a take on a traditional Portuguese dish served at Sitio da Pedralva restaurant in the small village of Pedralva.
Surrounded by tree-covered rolling hills, just north of the town of Vila do Bispo in the Algarve, you will find the white-washed, rural village of Pedralva and the Aldeia da Pedralva tourist houses. The concept of Aldeia da Pedralva is to breathe new life into this almost abandoned rural community through the renovation and restoration of the traditional old buildings and, with the monies raised through tourism, to invest in the community and to protect the heritage and history of the village.
Today, there are seven full-time inhabitants of Pedralva who mingle with staff and visitors in the cafe, restaurant and village squares. There is a real community vibe.
To download your recipe card, follow the instructions below:
– Click on the recipe card image below – this will take you to a new page with the recipe card.
– From here right click on your mouse and click the 'save as' button.
– Save the card wherever you choose and then open it up.
– Once you have opened your recipe card you print it using your chosen printer.
– All you have to do now is go shopping!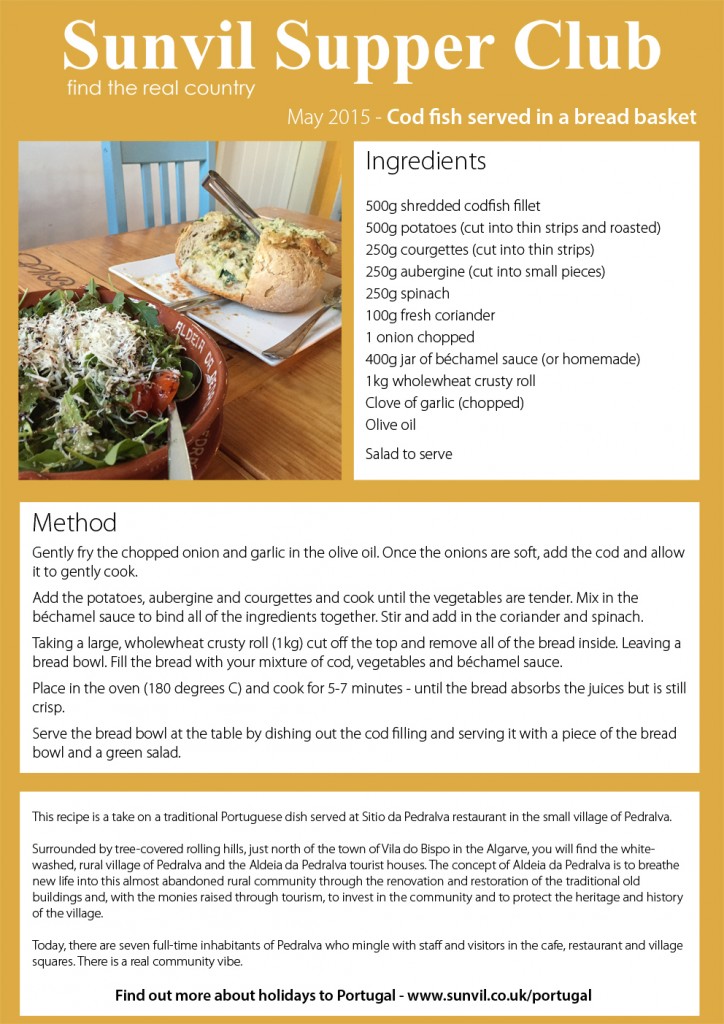 Alternatively, download the PDF version of May's Supper Club recipe card  by clicking here.
Are you a budding blogger? Or do you know anyone who is? Each month we get some bloggers to try out our recipes, and we're always on the lookout for more people to give us their feedback. If you are interested in taking part, or would like some more information please drop us a quick email, our address is info.supperclub@gmail.com