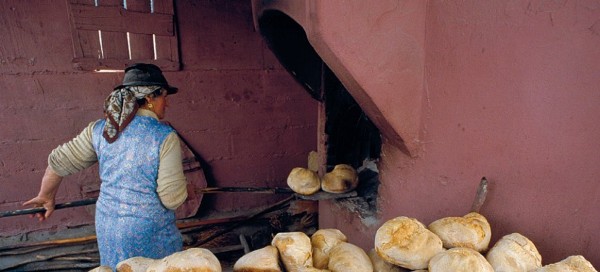 The Alentejo is widely known as the breadbasket of Portugal. My impression of the region is coloured by endless fields, dotted with cork trees casting small shadows under their broad canopies in the scorching sun. I visited first during a rainy week in spring and then again in late summer, when the earth was scorched dry and the thermometer in the rental car rarely went below 35C. At first glance it's hard to imagine the land producing much in the way of fresh produce, and yet the dinner tables in the guesthouses and hotels we stayed at offered proof of the richness of the harvest.
Thanks to the almost guaranteed abundance of hot summer sunshine, the fields of the Alentejo are well-suited for growing wheat and grain. This is reflected in the variety and quality of the bread on offer. Stop by a traditional kitchen and you may see freshly baked bread being lifted from a wood-fired oven, in a process which has changed little over the generations. I remember the bread we were routinely served at the table for its tasty crust. The best way to eat is to dip it in locally produced olive oil; you'll never want to go back to butter again. Açorda is a soup made with stale bread. Don't be put off though; it's perfect for thickening sauces, stews and in this case, soups. There are an infinite number of recipes, and typically it's been a case of adding what's available to flavour the soup. You'll find seafood and meat varieties, and it's a perfect dish in the cooler months.
Pork is another staple food here, and along with the highly prized black pork which you can find on many menus, there are some imaginative flavours of sausages and stews. Carne de porco à alentejana is a stew made with pork and shellfish, soaked in white wine, and accompanied by healthy quantities of garlic and herbs. A very popular accompaniment to the region's main dishes is wild asparagus. It's served as a stand-alone side dish, or can be mixed with pork fat and stale bread (there's a theme here; nothing is wasted), to make asparagus migas, a local speciality and a classic comfort dish.
The coastal part of the Alentejo offers lighter, less fatty fare, but based on my own experience I wouldn't expect to by any less full when you leave the dinner table. Cataplana de Peixe is a rich, tasty stew cooked and served in a large metal dish. Along with clams, prawns, and fish you'll find varying amounts of tomato, garlic, coriander, peppers and potatoes. My advice is to order a bottle of wine (local of course), make sure you're not in a hurry, and take as long as you need to enjoy the more-than-generous dish and do it justice. If you have a smaller appetite, don't miss the fresh sardines which are grilled in pretty much every restaurant along the coast.
The 7-night 'Discover the Gastronomic Soul of Portugal' itinerary offers wine tasting, fresh seafood and plenty of encounters with traditional regional favourites. And with the Euro weaker than it has been for many years, the prices of restaurant meals for British visitors are very reasonable.
by Andy Jarosz