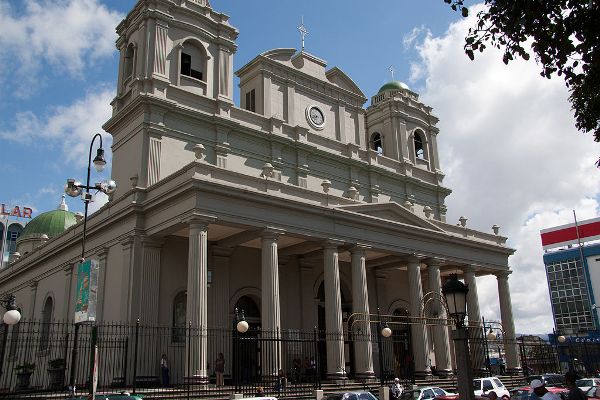 Costa Rica is one of the world's leading tourist destinations for those wanting memorable encounters with nature. Whether it's erupting volcanoes, hatching sea turtles or the brightly coloured birds in the rainforest, the small Central American nation offers plenty of exciting options to experience the natural world. Most visits to Costa Rica start and end in the country's capital, San Jose, and given the attractions elsewhere in the country it's no surprise that the average itinerary allows no more than a day in the city.
But despite being a modern city, San Jose is not entirely without its attractions. Here are just a few things worth exploring while you wait to head off into the Costa Rican rainforest or coast.
Central Market
Big city markets can offer an intense, unsanitised exposure to the local environment, and the Mercado Central in San Jose is no exception. You'll find the usual array of tourist souvenirs, but look beyond the Made in China labels and you can also bag some local handicrafts, export quality coffee and, if you're tempted, Costa Rican cigars, all at a bargain price (haggling may be required). Even if you're not shopping, you can enjoy the chaotic sights as buyers and sellers cram into the maze of stalls to go about their business.
National Museum
This rather random collection is housed in a former army barracks, and the bullet marks visible on the outside are scars from Costa Rica's civil war in 1948. Inside you'll find butterflies, jade and gold artefacts, along with general exhibits telling the story of the country from pre-Colombian times to the modern period.
Metropolitan Cathedral
The main place of worship for the city's Catholic population was built in 1871 after its predecessor was destroyed in an earthquake. The style is neoclassical,  and there are impressive stained glass windows and bass reliefs, as well as a large statue of Pope John Paul II.
National Theatre
Arguably the city's most impressive building, the Teatro Nacional dates back to 1897 and boasts an ornate marble lobby with paintings from the 19th century. Guided tours cost around £6.50.
Museum of Gold
With over 1,500 pre-Colombian gold exhibits spanning four millennia, there's plenty to see for those interested in shiny metals. Displays include ornaments, religious artefacts and currency, and the museum is housed in the central bank's grand interior.
Costa Rican Art Museum
Bizarrely, this grand art collection has found its home in the city's former airport terminal. There are works by Costa Rica's best known artists, and the museum has a sculpture garden. It's also free, which is always a bonus.
Barrio Amon
For a break from museums, take a walk in this once-prosperous neighbourhood and admire the ornate if crumbling mansions. These are the homes built for the city's wealthy coffee farmers in the late 1800s. The area suffered many years of neglect, but it is slowly being regenerated – you'll find several cafes and restaurants, and local entrepreneurs have even set up walking tours of the neighbourhood.
The 12-night Sunvil Traveller Highlights of Costa Rica itinerary includes the first 2 nights in San Jose.
by Andy Jarosz
Photo: Andy Rusch (https://www.flickr.com/photos/asrusch/5378820544) [CC BY 2.0], via Wikimedia Commons