Across Latin America, the Day of the Dead (November 1) is marked in a variety of ways, ranging from the sombre to the festive, from the mournful to the bizarre. While the day is an important one in the Roman Catholic calendar, the festivities often have little to do with Catholicism. One of the more colourful celebrations is in the villages of Sumpango and Santiago Sacatepequez in Guatemala, where hundreds of kites are flown in a traditional festival which is intended to warn off evil spirits. The Festival de Barriletes (Kite Festival) in Sumpango has been taking place for around 80 years, and sees crowds of villagers and outsiders gather on a hilltop overlooking the main cemetery. There's an atmosphere of celebration with plenty of grilled food and live music, but the main focus of the event is on the elaborate kites. These are made over a period of several months, although tradition dictates that 40 days before the festival the unmarried men of the village head to the coast to collect bamboo for the kites.
This video gives a flavour of the day's events and includes a short interview with one of the festival committee members, who explains the significance of the kites.
The patterns have their roots in Mayan designs, and the day's festivities seamlessly mix indigenous and Catholic traditions – something which is seen widely across Latin America. Some of the designs today are adapted to convey modern social or political messages within their patterns. Despite the intense work that goes into the making of the kites, once they are released at dusk, their life can very short. The high winds which typically blow at this time can make light work of the delicate paper and bamboo constructions, and the kites are often torn from their frames; but even this is seen as a symbolic analogy of the fleeting nature of our own lives.
While the celebration has deep religious roots, it's also seen as a way to promote a strong cultural identity within Guatemala's many ethnic groups. And the skills of the Sumpango kite makers has been recognised far beyond the national borders, with villages invited to kite festivals in France and Colombia in recent years.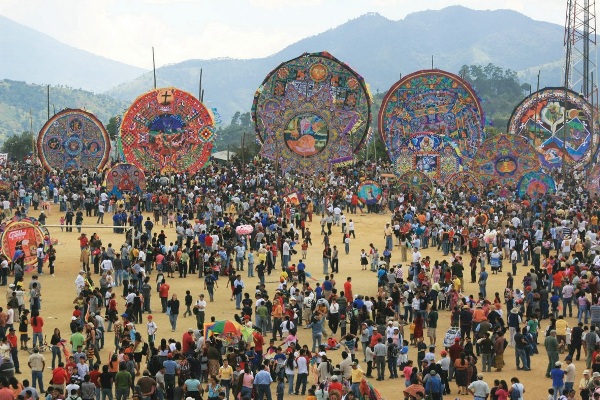 Sumpango and Santiago Sacatepequez are both around 10 miles from Antigua, the tourism capital of Guatemala, and visitors who are in Guatemala at this time can make an easy day trip to see the festivals. Sunvil Traveller's 14-night Guatemala Adventure Itinerary includes 3 days in Antigua.