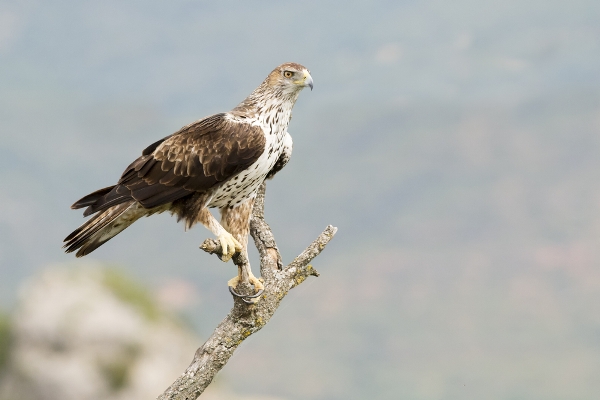 As the third-largest island in the Mediterranean, Cyprus forms a natural resting point on the migration route between Europe to the north, and the Middle East and East Africa to the south. In fact around 200 different species of migrating birds pass through Cyprus on their long journey in the spring and autumn. This makes Cyprus a fabulous destination for visitors with an interest in ornithology.
While migrant birds can be spotted at almost any time of the year, the spring offers the best opportunity for sightings. Things tend to start in late February with the arrival of the Great Spotted Cuckoo. Common species in March include nightingales, larks, wagtails and warblers, while ducks and skuas tend to be seen along the coast from April.
Autumn provides the most concentrated numbers in terms of the larger birds of prey. Bonelli's Eagles are one of the signature birds of Cyprus, while Pallid Harriers, Griffon Vultures, kestrels and peregrine falcons are regular visitors, despite ongoing problems with illegal hunting, seen here and across much of the Mediterranean.
For those planning a bird-themed visit to Cyprus, there are many recognised sites popular with local birdwatchers. The salt lakes near Larnaca offer an inviting habitat for birds, and there are purpose-built hides at the nearby Larnaca sewerage works, where sightings include lapwings, wagtails and marsh harriers.
In the centre of the island, bird sightings in the seclusion of the Troodos Mountains are unsurprisingly promising, with resident species including crossbills, jays and the short-toed treecreeper, a tiny bird found in southern Europe and north Africa.
The coast around Paphos is another popular migration stopping point. At the headland just beyond the town, birdwatchers can observe greater sand plovers, warblers and flycatchers, all within site of the archaeological ruins for which Paphos is well known.
Perhaps the most remote and rewarding location for nature lovers in general, and birdwatchers in particular, is the Akamas Peninsula. The area is sparsely populated and apart from a modest number of hikers and bikers in the summer months, the birds go about their business largely undisturbed. Sightings here include the Sardinian warbler and the Masked Shrike, and this remains one of the best places on the island in which to encounter a Bonelli's Eagle.
The rapid growth of tourism across much of the Mediterranean has been bad news for birds, with golf courses and coastal development restricting the natural habitat and feeding grounds along the main migration routes. It is encouraging to see that initiatives such as Mediteraves, managed by the EU-funded IPOT (International Project of Ornithological Tourism), working to create ways in which both the wildlife and local communities can benefit from what continues to be a growing interest in wildlife-related tourism.
Sunvil Holidays can arrange birdwatching excursions with local expert guides on Cyprus.