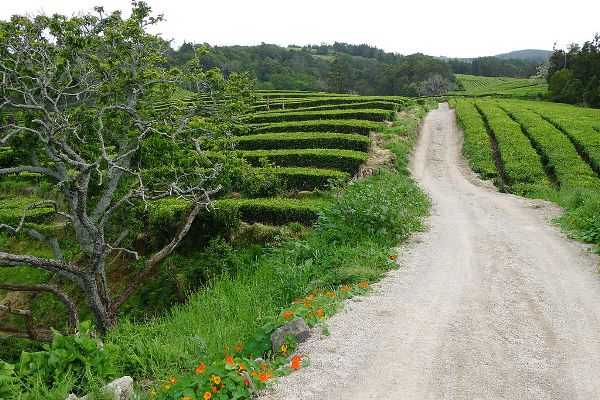 Sitting as they do in the mid-Atlantic, the climate of the Azores is quite distinct from that of continental Europe. It should come as no surprise therefore that some things which can't grow on the mainland are able to flourish on these fertile islands. Tea is one of the more surprising crops found here; pineapples are also found in abundance. So how did tea find its way to the Azores?
Europeans developed a taste for tea as soon as they began exploring faraway lands in the 15th and 16th centuries. As trade routes between Europe and the Far East expanded, so the amount of tea imported into the continent grew; although for many years it remained a luxury only available to the rich elite. Early attempts at growing tea in the Azores failed and it wasn't until 1883 that tea was able to be cultivated in commercially viable quantities. 14 tea plantations were established in the Azores, but only the family-run Gorreana estate has survived to this day. The current owners represent the 5th generation of the family, and the black and green teas are still made using production methods which the company founders would probably recognise.
The Gorreana Tea Estate is the only commercial tea company in Europe, and it welcomes visitors to the plantation to see what is an important element of Azorean history. The plantation grows around 40 tons of tea every year, with the majority consumed in the Azores and in mainland Portugal. Look out too for green tea pudding while eating out across the islands – it's a local favourite.
A visit to Gorreana provides an opportunity to see the tea production techniques at first hand. There's a tour of the factory taking in the full tea-making process, and there's also a museum giving more information about the history of tea in the Azores. If you fancy getting in among the tea crops, there's even a self-guided trail around the estate. The tea plants, which once grew wild in the region, are now cultivated in neatly manicured rows stretching from the plantation down to the coast. No doubt the trail is cleverly designed to build up your thirst for a cuppa by the time you return to the factory. Of course no tour would be complete without a chance to buy the products; the factory shop allows visitors to bring a taste of the Azores back home (both loose leaf and tea bags are sold).
This video by Sollfors gives a brief taste of what to expect on a visit to the Gorreana plantation.
A visit to the Gorreana Tea Plantation on São Miguel is included in the 7-night Azores Three Island Tour, arranged by Sunvil Discovery.
Image: By Lampa21 (Own work) [CC BY-SA 4.0], via Wikimedia Commons