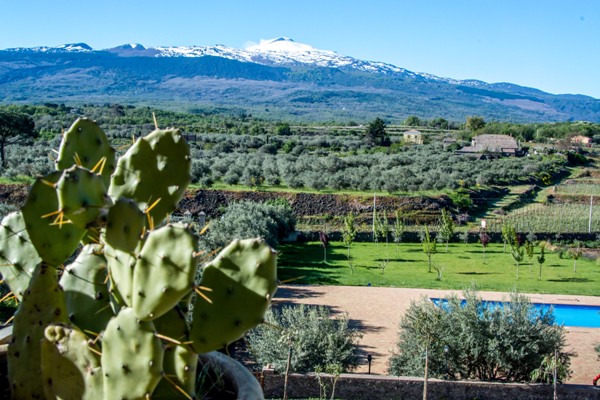 It would hard to pick a favourite spot on Sicily, given that our two weeks on the island produced so many highlights. But for world-class views, fabulous food and a laid-back place in which to unwind, it would be hard to beat our time at Feudo Vagliasindi, just outside Randazzo on the northern slopes of Etna. The hotel sits on a farm estate which has produced olives and wine for many centuries, and the guest rooms are within the restored 10th-century farmhouse. Many rooms look out over Mount Etna, and there's a terrace which overlooks the grounds and the famous volcano (which thankfully is far away enough not to keep the owners awake at night with worry).
Nice though it is, sitting on a terrace admiring the view all day is a little too much for me; thankfully there's plenty to explore in the surrounding area. Randazzo is a pretty walled city; look out for the black lava rock, which has been used as a building material in both the medieval and modern buildings. There are dramatic views over the surrounding hills, and of course Etna frequently pokes out from between the spires and towers.
A little further afield is Bronte, where we made a visit to Nelson's castle (Il Castello de Nelson). It was awarded to him for his help in defeating the French and in the process, saving the Kind of Naples, Ferdinand I. It's open to visitors; while we were there the church and the house were being prepared for a lavish wedding. There's a small museum of artefacts related to Nelson (he never actually visited the castle), and there's also an English cemetery nearby (it's not in the best of states).  While there you MUST make a short detour into the town of Bronte for the best pistachio ice cream you'll ever taste. Bronte is the home of pistachios (you'll see them growing on every slope around the town), and the best gelaterias in Rome make a big deal of proclaiming that their pistachio gelato is made from Bronte nuts. A local expert on these matters suggested we visit Caffetteria Luca for our gelato, and we loved it so much we ordered seconds – and even thirds.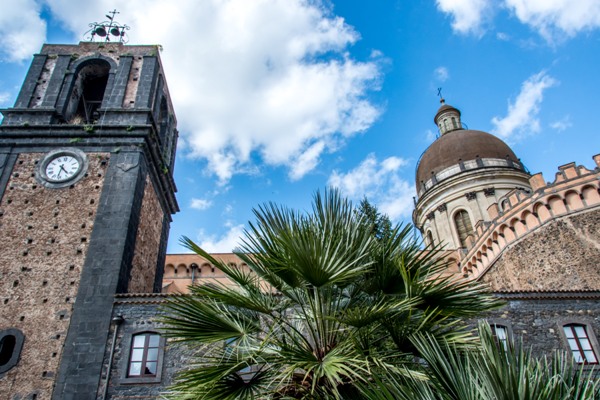 We had chosen to stay at the farm because of its proximity to Etna, and had hoped that Etna would put on one of its frequent pyrotechnic displays. Alas, we saw nothing more than a gentle stream of white smoke coming from its summit. Such is Etna's unpredictability that if we had planned our trip just one week later, we would have seen an altogether more spectacular show. That's active volcanoes for you.
It would be odd to come here and not visit Etna at close quarters, and with our little Fiat rental car we ventured up as far as the road will go on the northern approach. It was early May, but as you can see from the photo below, we left behind the warm sunshine of the farmhouse and within half an hour we were trudging through snow. There are trails leading up to the crater, and jeeps take visitors through the lava fields in the summer months; there's even a ski school in the winter. Good footwear is essential, as lava can be unforgiving on shoes and ankles.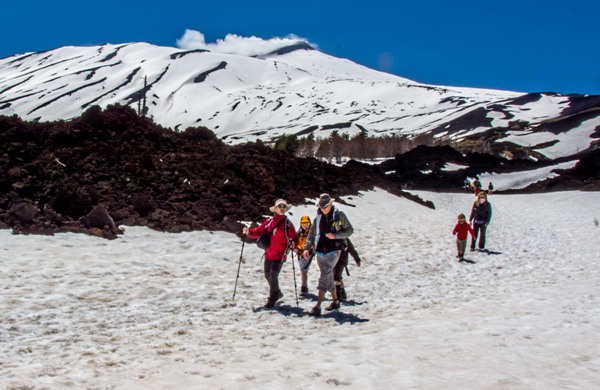 A stay at Feudo Vagliasindi can be included in a tailor-made Sicily holiday with Sunvil Discovery. I would also recommend eating the fabulous home-cooked dinners in the farm restaurant, but beware of the enormous portions!
by Andy Jarosz