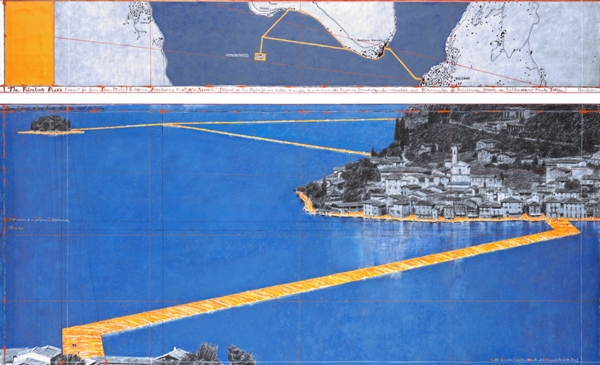 From June 18 to July 3, 2016, the Bulgarian-born artist Christo will create a shimmering walkway of yellow light across Italy's Lake Iseo. The Floating Piers project, the latest in a series of giant installations by the 80-year-old artist, will involve 70,000 square meters of yellow fabric, carried by a modular floating dock system of 200,000 high-density polyethylene cubes. The entire structure will undulate with the movement of the waves as The Floating Piers rise just above the surface of the water.
Visitors will experience this work of art by walking on it from Sulzano to Monte Isola and to the island of San Paolo, which it encircles. The mountains surrounding the lake will offer a bird's-eye view of The Floating Piers, and a 3-km walkway will be created as The Floating Piers extend across the water of Lake Iseo. Those worried about walking on narrow planks across a lake needn't worry; the piers will be 16 metres wide and around 50 cm high with sloping sides. The yellow fabric won't stop when it reaches the shore – it will continue along 1.5 km of pedestrian streets in Sulzano and Peschiera Maraglio.
The idea of the Floating Piers project isn't a recent one for Christo. Along with his late partner Jean-Claude, they originally planned to create the artwork as far back as 1970, when the first plans were drawn up to make the boardwalk on the Rio Plata delta in Argentina. They tried again in 1995 with a proposal to connect two artificial islands in Tokyo Bay, but like the first proposal it was rejected. In the spring and summer of 2014, Christo and his team scouted the lakes of Northern Italy in another attempt to find a suitable venue for his project, and they settled on Lake Iseo as the most inspiring location for their giant artwork; thankfully this time they received the blessing of the local authorities and were able to make the dream a reality at last.
Those who have visited the lake will understand how it charmed the artist and his colleagues. Lake Iseo is 100 km east of Milan and 200 km west of Venice. Surrounded as it is by soaring mountains and dotted with Roman ruins and pretty villages, it enjoys a level of tranquillity that can be hard to find among the tourist crowds around Lake Como and Lake Garda, both a little over an hour's drive away.
The Floating Piers will be funded entirely through the sale of Christo's original works of art, and after the 16-day exhibition, all components will be removed and industrially recycled. For more details see the project website The Floating Piers.
Sunvil Discovery offer a 9-night Venice and the Italian Lakes itinerary, starting in Venice and ending in Milan.