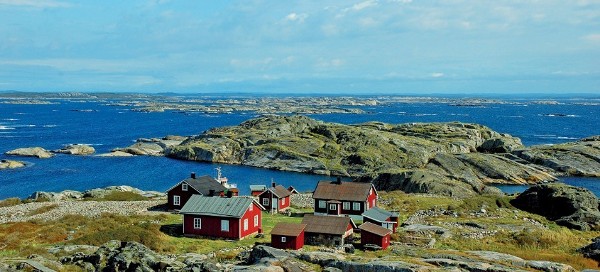 If you've ever found yourself in a sparsely populated place, surrounded by wild landscapes, big skies and clean air, you'll no doubt agree that the effort of travelling to such splendid isolation is more than compensated for by the rewards on arrival. When that place is as easy to reach as the west coast of Sweden is, then the attractions are even more clear. With thousands of islands (mostly uninhabited), pretty villages and a way of life which still places a healthy importance on simplicity and a respect for nature, the region offers an attractive option for those who enjoy exploring the outdoors and indulging in the finest, freshest seafood.
So what is on offer for those thinking of a holiday along the west coast of Sweden? Here are a few of the highlights.
Fjällbacka
To the north of Sweden's west coast, the charming fishing village of Fjällbacka offers the best of rural Sweden, with its colourful wooden houses, its narrow lanes and the gentle buzz around its harbour. Best known as a favourite hang-out of actress Ingrid Bergman, it's also the birthplace of crime writer Camilla Läckberg, often referred to as Sweden's Agatha Christie; many of Läckberg's grisly novels are set in and around Fjällbacka. Aside from its celebrity links, Fjällbacka is very popular during the summer months for its excellent seafood experiences. Not only can you enjoy the taste of locally caught produce, but you can also learn to catch and cook it on a seafood safari with local fishermen. In spring and summer there are crayfish safaris in Fjällbacka, and in the autumn months visitors can try their hands at lobster fishing.
Grebbestad
Less than 10 miles north of  Fjallbacka, the fishing village of Grebbestad also offers some exciting seafood adventures. A year-round oyster course takes curious visitors through the basics of catching oysters, before heading out to the oyster bank to try out the newly acquired skills. The tasting is of course an essential part of the experience, and this takes places in the traditional fishermen's boathouses or even on board while enjoying a cruise among the nearby islands. During the autumn there's also a one-day lobster safari from Grebbestad which involves an afternoon boat cruise with fishermen to the lobster pots. You'll have a chance to pick out the lobsters and then meet your catch again during dinner.
Weather Islands
For a proper sense of isolation, take a short trip from Fjällbacka to the beautiful Väderöarna (Weather Islands). There are around 300 or so islands and apart from looking out for seals (there are far more of them than there are people!) there's little to do except taking walks to soak up the pristine natural surroundings. The guesthouse on the main island has a highly acclaimed restaurant and in the summer is a popular place to spend the long evenings.
Koster Islands
Further north and not far from the Norwegian border, the Koster Islands are Sweden's first marine national park, With access by boat from Strömstad, they offer a wonderful setting for active types to take a stroll, hire a bike and even swim in the clear waters. It's also a perfect place to simply relax on the harbour deck and enjoy the breathtaking views.
Sunvil Discovery offer the 4-night "Fjällbacka A Coastal Retreat" itinerary, exploring the traditional west coast village which was such a hit with Ingrid Bergman.