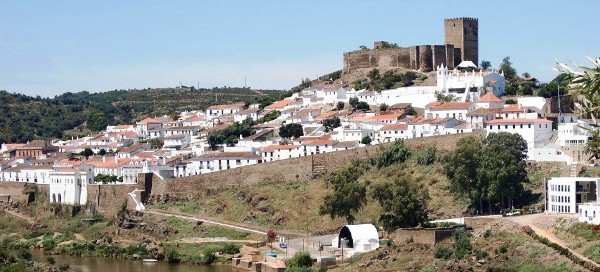 One of the many joys of exploring the Alentejo region of Portugal is the unsung discoveries which you can so easily stumble across. On the two occasions I've hired a car in the Alentejo I've found villages for which there's precious little in the way of tourist information, and yet in which I've discovered buildings, monuments or just stories which have stayed in the memory long after I've come home.
One such example is the town of Mertola, less than 20km from the Spanish border. As with many border towns in this region the whitewashed houses are overlooked by a stone fortress; in this case a 13th-century construction built on the site of the former alcáçova (citadel). The citadel is in itself a metaphor for Mertola's history: it was originally the site of a Roman forum and later a grand home for one of the town's Moorish rulers. Looking down on the Rio Guadiana, this fortress was for much of the medieval period an important part of the Portuguese defences against its eastern rival. Now, along with the high stone wall which encircles Mertola, it serves as a prominent symbol of the town's rich heritage. Mertola is considered by many to be finest of the walled towns of the Alentejo, and its streets have changed remarkably little since Moorish times. You can find the Moorish influence throughout the town's civic buildings, while the town museum (housed in a 600-year-old granary) has an important collection of Islamic art. Most fascinating of all is the Igreja Matriz, which began life as a mosque and which still carries many of the tell-tale symbols of Moorish style.
Mertola celebrates its Moorish heritage every two years during the Islamic Festival, when the town's streets are temporarily transformed into an open-air souk. The programme includes music, recitals and of course food, and is designed as a celebration of an important part of Iberian history. The next Islamic Festival will take place in 2017.
A few miles outside of Mertola, the tiny village of Mina de Sao Domingos can barely rustle up enough activity to warrant the label 'sleepy'. In its heyday however it would have been a thriving town of around 15,000 people, attracted to the area by the prospect of making money from the town's mine. The Romans first mined the area for gold and silver and in more recent years it was copper which drove the fortunes of Mina de Sao Domingos. Run for a while in the 19th century by British firm Mason and Barry, the mine brought prosperity in the form of a railway, a hospital and even electricity generators (Portugal's first) to the town.
Nowadays the ruins of the mine buildings are all that remain, but for those interested in industrial heritage the site is open for visitors and can be explored on a guided tour. There's even an English cemetery, where some of the mine's managers were laid to rest. Here's a short video showing drone footage from the mines:
by Andy Jarosz