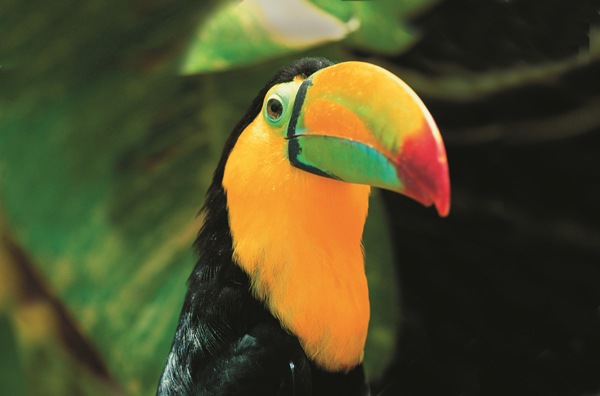 Not only is Costa Rica blessed with outstanding natural beauty, but for many years now this small Central American nation has led the way in implementing conservation policies which have protected its rainforests and its incredibly diverse flora and fauna. It is established as a destination for ecotourism and this year, thanks to a new direct flight between London Gatwick and the Costa Rican capital San Jose, it's easier than ever to experience the beauty of this rugged country.
Over 25% of the land falls under protected area status, and there are 26 national parks which offer a variety of birdwatching, hiking, volcano tours and coastal experiences, among other attractions. Here's a brief introduction to just a few of the national parks, all of which can be visited on a tailor-made Sunvil Traveller itinerary.
Corcovado 
This remote region in the southern Osa Peninsula has been labelled by National Geographic as 'the most biologically intense place on earth.' Although it's only 35 miles long and 20 miles wide, the park is home to around 2.5% of the world's entire biodiversity. There are 13 separate ecosystems containing almost 1,000 types of trees and 4,000 species of birds. Among this mass of species many visitors come to see scarlet macaws and Baird's tapir. Everyone hopes to catch a sighting of a jaguar of course, but thanks to the dense vegetation (and the fact that these big cats are nocturnal) only a lucky few manage to see one.
Tortuguero
This low-lying area on Costa Rica's Caribbean coast is a place of wetlands, marshes and secluded beaches, but there's one overriding reason why people choose to come here. During the summer months (July to October) thousands of Green Sea Turtles lay their eggs along the shore, while Leatherback turtles also lay eggs from April to May. The beach is off limits after dark (to protect the turtles) but guides take small numbers of visitors to watch as the turtles make their way along the beach, dig their holes and lay their eggs. During September and October there's also the chance to see the eggs hatching.
Palo Verde
With a mix of wetlands and tropical forest, Palo Verde National Park is a favourite location for bird watchers. There are so many species here that if you settle yourself down by the water's edge and stay still you're soon likely to encounter storks, spoonbills, egrets, herons and ibis. And the park is home to an impressive variety of mammals too: you'll probably hear the howler monkeys before you see them, while coatis and peccaries are fairly common sightings. Come in the dry season (winter months) to see the best of the birds. As well as wildlife spotting, Palo Verde is popular for cycle tours, given its relative flatness.
Carara
On the Pacific coast, Carara National Park offers pristine rainforest and is relatively easy to reach from San Jose. It's the one park where you might find bus groups of daytrippers from the cruise ships too. The Crocodile Bridge is a good place for sighting crocodiles (of course), and within the reserve you're likely to see trogons, scarlet macaws and sloths. If you have enough of the crowds, there are many hiking trails which will soon reward you with solitude (and perhaps a better chance of wildlife encounters).
This park is overlooked by the spectacular Arenal volcano, which regularly belches out smoke and lava from its cone; when it's particularly active the night-time shows are spectacular. Guided hiking trips allow visitors to safely observe the lava, and there are several exciting trails which take in the park's hanging bridges and high waterfalls, as well as Arenal Lake.
Sunvil Traveller offer a 12-night Highlights of Costa Rica itinerary, and can tailor-make a trip to suit a traveller's personal interests.